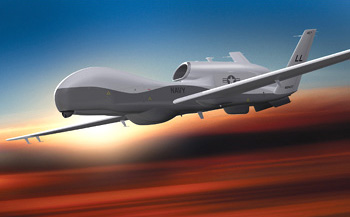 Northrop Grumman Corporation has commenced flight tests of the first developmental multifunction active sensor (MFAS) radar destined for the US Navy's MQ-4C Broad Area Maritime Surveillance Unmanned Aircraft System (BAMS UAS). The MFAS sensor has been integrated into the company's Gulfstream II testbed aircraft based in Palmdale, Calif.ornia, for flight testing after having completed ground station testing in late November at the company's Electronics Systems facility.
Marking another milestone, the first BAMS aircraft has received its wings and is standing on its own gear at the company's Palmdale Manufacturing Center in California.
"These two important milestones demonstrate continued programme maturity leading us to first flight later this year," said Gerald A. Duke Dufresne, Sector Vice President and Unmanned Systems General Manager. "Our unmanned systems are providing the US Navy and other customers with affordable, combat-proven high altitude, long endurance intelligence, surveillance and reconnaissance solutions."
Over the next several months, testing of the MFAS radar will be broken down into three phases: radar integration, mode integration and refinement, and data collection. Each phase tests the various capabilities and modes of the radar that will be used by the Navy to provide a persistent common picture of the maritime surface traffic.
The MFAS sensor operates with a rotating sensor that incorporates electronic scanning and provides mode agility to switch between various surveillance methods. These include maritime-surface-search (MSS) mode for tracking maritime targets and inverse-synthetic-aperture radar (ISAR) mode for classifying ships.