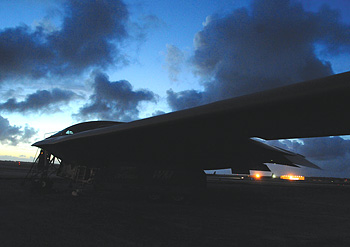 BAE Systems has won a contract from Northrop Grumman – Aerospace Systems to provide electronic support measure (ESM) systems for use on all 20 B-2 Spirit bombers. This ESM upgrade will be a complete replacement of the current aging AN/APR-50 system. With this award, BAE Systems will now be providing electronic warfare systems on all three of the US Air Force's low observable platforms; the F-22, F-35 and B-2 aircraft.
"As a result of an extremely rigorous competition for a modernised ESM system for the B-2, Northrop Grumman is pleased with the selection of BAE Systems as our primary partner to deliver a rapid, affordable defensive capability to the warfighter," said Dave Mazur, Aerospace Systems Vice President, Long Range Strike. "Modernising the B-2 defensive system is critical to continued long-range strike supremacy and that will be accomplished through leveraging BAE Systems' extensive portfolio of ESM technology."
Northrop Grumman selected BAE Systems in a competitive bid process over the incumbent and industry's top electronic warfare providers, to replace the aircraft's 30-year-old legacy AN/APR-50 ESM system. The system, in conjunction with the radar warning receiver, detects electronic threats encountered by the B-2 and provides situational awareness of detected threats to its air crew.