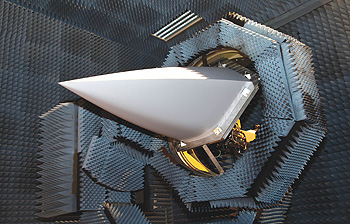 The Volvo Aero owned company, Applied Composites AB – ACAB – has been appointed by LIG Nex1, a LIG Group company in South Korea, for the development of a prototype stealth radome for the KFX aircraft programme.
ACAB is recognised as one of the leading European suppliers of advanced composite components for military applications. Among other things, ACAB is specialised in advanced radome technology, including the latest generation stealth and low-observable technology. ACAB has supported and supplied Saab for over half a century with radome technology for the Saab fighter programmes. ACAB is the supplier of the Gripen fighter radomes.
The radome (radar dome) is the streamlined structural part in the nose of the aircraft which protects the radar antenna from wind and weather. It is carefully designed to withstand the mechanical loads without compromising the radar performance. In addition, it increases the survivability of the aircraft due to its sophisticated stealth features.