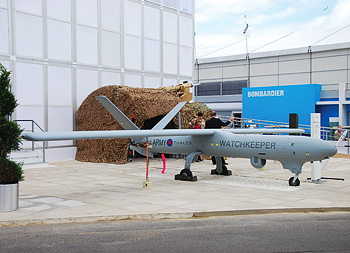 The largest tactical unmanned air system (UAS) in Europe was announced as a key pillar of a broad Anglo-French defence cooperation in the field of UAS as the French Government confirmed its interest in working with the UK to develop Thales UK's Watchkeeper.
Victor Chavez, Chief Executive of Thales UK, said, "Unmanned air vehicles (UAVs) have played a fundamental role in military operations in recent years, and it is only natural that they now also take centre stage in international defence agreements. The UK and France want to remain leaders in the use of UAVs, and working together on Watchkeeper would ensure both have the best intelligence capabilities without duplicating the costs."
The company's next-generation Watchkeeper system, to be built entirely in Europe, will deliver life-saving surveillance and operational capabilities to the UK's armed forces, and is also the only tactical UAV to meet European airworthiness criteria – completing over 100 flights in the UK as part of its trials programme.