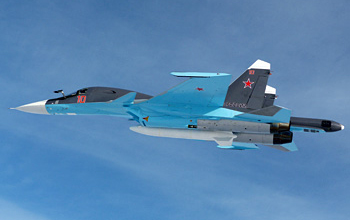 The Russian Defence Ministry has signed a deal for 92 Su-34 Fullback fighter-bombers from the Sukhoi aircraft maker. The deal under which the warplanes are to be delivered by 2020 was signed by Defense Minister Anatoly Serdyukov and Sukhoi General Director Igor Ozar.
This is one of the largest warplane contracts under the government arms procurement programme and it will help replace all of the Su-24 bombers currently in service with the 4+ generation aircraft, Serdyukov said.
The ministry previously said a total of 70 Su-34s will be delivered by 2015.