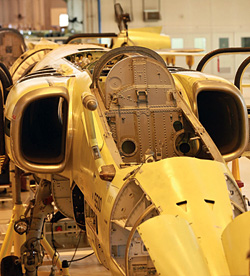 Embraer successfully performed the first flight of the A-1M prototype at its manufacturing plant in Gavião Peixoto, in outstate São Paulo, during a ceremony attended by the Aeronautics Commander, Air Force General Juniti Saito, and officers from the Brazilian Air Force (FAB) high command.
The aircraft's flight test campaign will soon begin. The A-1M programme provides for refurbishing and upgrading 43 FAB AMX subsonic fighters. Ten aircraft are already at the company's facilities and the first deliveries are planned for 2013.
The event also marked the delivery of the 99th, and last, A-29 Super Tucano light attack turboprop to the FAB, as well as the last two upgraded F-5M fighters from the first group. Via the AL-X programme, the FAB became the launch customer for the Super Tucano, in December 2003. The aircraft is currently used for advanced pilot training and carries out important functions in the Amazon Surveillance System (SIVAM). The A-29 Super Tucano has been chosen by ten customers in Africa, the Americas and Asia-Pacific.
The F-5M programme covers the refurbishing and upgrading of 46 supersonic fighters. Each aircraft received new navigation systems, weaponry, computers, and multimodal radar.