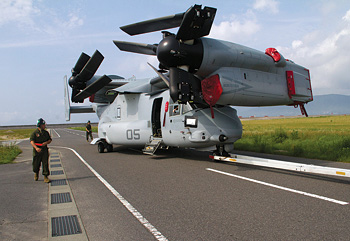 Twelve MV-22 Osprey tiltrotor aircraft were off-loaded from a civilian cargo ship at Marine Corps Air Station (MCAS) Iwakuni, recently, marking the first deployment of the MV-22 in Japan. The aircraft will be stationed aboard Marine Corps Air Station Futenma in Okinawa, Japan, as part of Marine Medium Helicopter Squadron 265 (HMM-265).
MCAS Iwakuni features both an airfield and a port facility, making it a safe and operationally feasible location to offload the aircraft. "We are obviously pleased to demonstrate the capacity of this co-located deep water harbour and aerial port of operations. It clearly highlights Iwakuni's position as a logistical lynchpin in the strategic alliance between the United States and Japan here in the Western Pacific," said Col James C. Stewart, Commanding Officer of Marine Corps Air Station Iwakuni.
Deployment of the MV-22 Osprey to Japan marks a significant step forward in modernisation of Marine Corps aircraft here in support of the US-Japan Security Alliance. Throughout the Marine Corps, Ospreys have been replacing CH-46 Sea Knight helicopters, which made their Marine Corps debut during the Vietnam era.