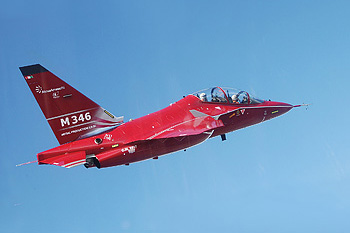 In the framework of a collaboration agreement between the Italian and Israeli Governments, Finmeccanica announced that it has signed contracts worth approximately $850 million through the operational companies Alenia Aermacchi, Telespazio and SELEX Elsag.
Alenia Aermacchi will supply of 30 M-346 advanced trainer aircraft. The agreement has a total value—including aircraft, engines, maintenance, logistics, simulators, and training—of approximately $1 billion, of which approximately $600 million pertaining to Alenia Aermacchi.
The new aircraft will replace the A-4 Skyhawks currently in service with the Israeli Air Force. The delivery of the first unit is scheduled for mid-2014.
Telespazio, will supply high-resolution optical military satellite system for earth observation, called OPTSAT-3000, for more than $200 million. Telespazio will be responsible for supplying the entire system: from the satellite to the ground segment, from the launch services and placement in orbit to the preparation and execution of the operational and logistical activities, as well as in-orbit testing and the commissioning.
The construction of the satellite, whose delivery is planned for 2015, will be entrusted to the company Israel Aerospace Industries/MBT Space Division;
Selex Elsag will supply identification, communications and computer systems for flight control of the 30 M-346 advanced trainer aircraft, and the supply, for approximately $41 million, through the company ELTA Systems Ltd, of the NATO-standard sub-systems for communications, tactical links, and identification for two CAEW (conformal airborne early warning) aircraft for the Italian Air Force.