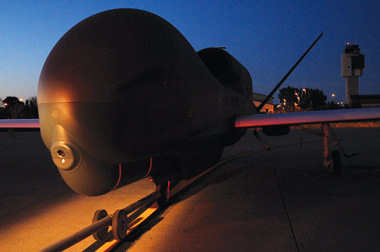 The 69th Reconnaissance Group reached another milestone recently with its first flight of a Block 40 RQ-4 Global Hawk from the flightline here. Previously, the 69th RG had only conducted flights in deployed environments.
"We at the 69th Reconnaissance Group are very proud of our first successful flight of the RQ-4 Global Hawk," said Col. J. Scott Winstead, 69th RG commander. "It reflects countless hours of hard work and preparation on the part of our airmen, civilian partners and the Federal Aviation Administration."
The RQ-4 Global Hawk is a high-altitude, long-endurance unmanned aircraft system with an integrated sensor suite that provides intelligence, surveillance and reconnaissance (ISR), capability worldwide. It complements manned and space reconnaissance systems by providing persistent near-realtime coverage using imagery intelligence (IMINT), signals intelligence (SIGINT), and communications relay equipment to more closely link our command and control to ground and air units.
Currently, the focus is on integrating the RQ-4 into the GFAFB flying environment.