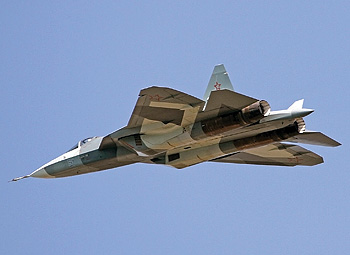 The Indian Air Force is contemplating slashing the orders for the Fifth Generation Fighter Aircraft (FGFA) from 200 to 144, according to the Air Chief, Air Chief Marshal, N.A.K. Browne. India's order will be for the single-seat models.
The stealth aircraft is being jointly developed by the the Hindustan Aeronatics Limited (HAL) and Russian Rosoboronexport and Sukhoi in a 50:50 joint venture. Russia is currently testing a handful of prototypes of the T-50 aircraft, which is due to enter service with the Russian Air Force after 2017.
The first prototype is expected to be delivered to India in 2014, followed by two more in 2017 and 2019. Series production aircraft "will only be ordered based on the final configuration and performance of the third prototype," Browne said.