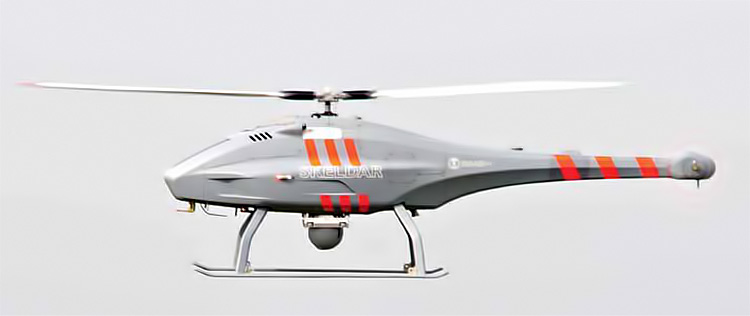 AIRFRAME
| | |
| --- | --- |
| Overall length (including rotor) | 5.2 m |
| Height | 1.3 m |
| Max take-off weight | 235 kg |
FLIGHT PERFORMANCE
| | |
| --- | --- |
| Payload | >40 kg |
| Service ceiling | 3.500 m |
| Max speed | >140 kmph |
| Endurance | 6 hours |
| Mission Radius | >100 km |
| Take-off/Landing area | 10 m diameter |
On October 31, Saab India Technologies gave a presentation on its latest state-of-the-art intelligence, surveillance, reconnaisance (ISR) and unmanned aerial vehicle (UAV) systems during a workshop in New Delhi. The workshop was organised as a part of the Sweden India Nobel Memorial Week 2012. Especially on offer was its latest Skeldar rotary-wing UAV which according to Joanna Sjolander, Marketing Director, Saab India Technologies Pvt Ltd, could adequately meet India's current and projected security requirements.
Skeldar has been developed as a fully autonomous and mobile short-to-medium range vertical take-off and landing (VTOL) unmanned aerial system (UAS). It is suitable for a wide range of sensor applications to perform missions such as reconnaissance, surveillance and identification. The Skeldar can reportedly hover for hours while providing real-time information to a control station or to a remote video terminal. It is controlled by high-level-commands such as "point-and-fly" and "point-and-look", and designed for a range of land, maritime and civil applications.
The Skeldar system consists of two air vehicles and a mobile SOS control station. Based on operational and technical requirements, the system may be integrated into a wide variety of segments and system environments utilising a common control concept and user interface in the context of command, control and payload management. The Skeldar UAS is a highly capable system and the system can be operated by just two to four people, owing to the ease of use, no take-off and landing equipment, and the low logistical footprint.
The Skeldar can perform a wide range of functions, including surveillance, reconnaissance, target acquisition, dissemination of target data, control of indirect fire and immediate assessment of battle damage. By being the primary system for these functions, day and night and in diverse weather conditions, the Skeldar UAS becomes the commander's 'dominant eye'.
Skeldar UAS can become a key collection asset in supporting near real-time visualisation of the battlespace. The agile flight envelope of Skeldar air vehicles provides key characteristics (see Table) for successful operations and missions, especially in urban areas and difficult terrain. Launch and recovery from easily accessible and small areas, keeping pace on the battlefield, as well as find, hold and maintain optimal aspect to area and point of interest, are all easily performed with ease due to its rotary wing design.
In the Skeldar system instead of using a conventional 'joystick', the entire flight envelope is controlled by a set of 'buttons/switches'.
The operator initiates take-off by pressing a button, points at an appropriate ingress point, setting the Skeldar air vehicle's speed and altitude. This control technique is known as point-and-fly. If the straightest way to the ingress point is not possible, the operator can still easily set a route by pointing on the map to define a number of waypoints. During the mission the aircraft files autonomously and allows the operator to quickly investigate a large number of points or interest simply by pointing on the map. This control technique is known as 'point-and-see'.
The system can be effectively used for land, naval and civil applications. However, it was pointed out that the problem of take-off and landing from rolling (and pitching) marine decks, especially of smaller vessels, was still in the process of being sorted out through innovative ideas. A suggestion by the SP's M.A.I. representative to try out gyro-stablised platforms which could be supplied as add-ons to the main system and could be hooked on to a vessel's deck, when required, was well taken.