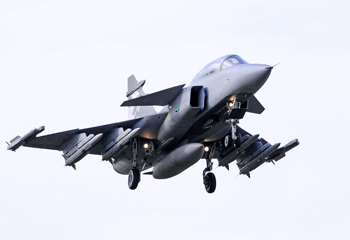 The Brazilian Defence Minister Celso Amorim recently announced the winner of the international competition for the acquisition of new multi-mission fighters for the Brazilian Air Force (FAB).
Accompanied by Air Force commander Brigadier Juniti Saito, Amorim said the Federal Government had decided in favor of the Gripen-NG aircraft offered by a consortium led by Swedish manufacturer Saab.
The French Rafale (Dassault) and the North American F-18 (Boeing) also competed in the final stage of the competition. According to Celso Amorim, the victory of the Swedish fighter in the F-X2 programme is mainly due to technical reasons. "The choice was the object of much study and careful consideration, and took into account performance, effective technology transfer and acquisition costs as well as operating costs. The final choice was based on these three factors," said the minister.
Also weighed in the selection, according to Brigadier Juniti Saito, criteria concerning the commercial counterparts (offsets) offered by Saab, in accordance with the provisions of the National Defense Strategy (SND). "We have several industries that have offered to contribute to the development of the aircraft. At the end of development, we will have access to all the technology of the aircraft," said the commander of the FAB.
In the Brazilian Air Force's evaluation, the Gripen-NG was distinguished by cutting edge technology with advanced system of sensors and data fusion, characteristics that give the pilot a complete and accurate picture of the combat scenario. The new multimission aircraft was designed for air superiority, air defense, aerial reconnaissance, air-to-ground and anti-ship engagements.
According to the FAB, the acquisition of the Swedish fighter will allow Brazil to face threats anywhere in the country, with a full load of weapons and fuel.
The winning bid covers the supply of 36 aircraft. The investments are in the order of $ 4.5 billion, in a disbursement schedule will last until 2023. The first aircraft is expected to arrive around 48 months after the signature of the financing agreement, which must occur in December 2014.