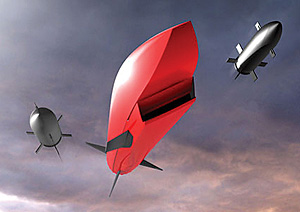 MBDA unveiled at the Paris Air Show the CVS 401 Perseus concept missile system, which represents the group's vision of a multi-role strike weapon system for 2030 and beyond.
To replace the current generation of heavy anti-ship and cruise missiles, a new system will be required that is capable of launching anti-ship strikes, land attacks and engaging time-sensitive targets such as relocatable missile launchers in an ever more complex tactical environment and with the minimum risk of collateral damage. This new system will also have to be modular and deliverable from a maritime environment, namely from surface vessel, a submarine, a carrier-based platform or a maritime patrol aircraft.
Perseus features multiple operating modes against a wide land and maritime target set with the added capability of being able to overcome the most effective of enemy missile defences. It is designed to be a tactical weapon system operated through an advanced operations & mission planning system at the crossroads of naval, land and air warfare.
The advanced supersonic (up to Mach 3), agile and stealthy airframe is powered by a revolutionary ramjet motor built around a highly compact continuous detonation wave engine. This revolutionary solution, at the very edge of propulsion technology, opens up the possibility of developing a smaller airframe with more energetic efficiency. This airframe will make Perseus an unrivalled penetrator of enemy defences and an effective weapon for use against fast moving, relocatable targets that it will be able to reach in a matter of minutes even at ranges of up to 300 km.