By Kishore Jayaraman, President, Rolls-Royce India and South Asia
Characterised by a high growth potential, India's aerospace and defence industry is important to the country's strategic and economic interests. Thus maintaining and accelerating growth across aerospace and defence is of great importance to the country's future.
India ranks among the top 10 countries in the world in terms of military expenditure yet imports 70 per cent of its defence equipment. For India to continue with its massive acquisition programme to provide its armed forces with the latest and best equipment in the most economical and sustainable manner, it needs to actively look into indigenisation through co-development and collaboration. This has to happen across the entire value chain – from research, design and development to manufacturing, integration, maintenance and repair. With the increasing liberalisation of Defence Procurement Procedure as well as the focus on 'Make India' programmes, there is substantial impetus on promoting indigenisation and creating a level playing field for the Indian industry.
Focus on Research & Development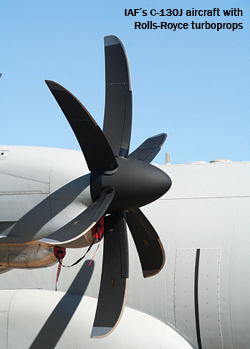 Defence technology comes with huge investments in research and development (R&D). Constant improvements are taking place in the aerospace and defence sector and better technologies are being developed around the globe. With India allocating only 6 per cent of its defence budget to R&D vis-à-vis 15 per cent by France and 12 per cent by the US, the country needs to significantly increase this share to ensure the development and supply of state-ofthe-art defence systems. The country's vast talent pool of engineers and scientists should be harnessed to make it a R&D hub. It also needs to consider providing special tax incentives to R&D in defence and sponsoring R&D projects at private industry level to encourage R&D for developing critically advanced technologies.
Raise the Existing FDI Cap
The role of foreign direct investment (FDI) in building a domestic industry and creating an enabling environment for transfer of technology from foreign OEMs is crucial. As in other sectors such as automobiles, IT and other manufacturing, there is an urgent need to allow 100 per cent FDI in this sector and address security concerns separately as in most countries. This will eventually enable transfer of sophisticated technologies at a time when the focus of India's defence planning is on increasing capacity to meet the needs of Army, Navy and Air Force, and to establish a reliable mechanism for inter-service, inter-departmental and multi-level coordination.
Boosting Supply Chain
Any defence programme success or failure is because of supply chain execution and the Indian small and medium companies can play a critical role in the entire supply chain for the aerospace and defence sector. Large purchase orders and contracts to foreign OEMs have created large offset obligations, churning out huge business opportunities for the Micro, Small and Medium Enterprises (MSMEs). Offsets must be strategically and proactively used as a catalyst towards bringing investments and technologies into India. The Government should also consider establishing dedicated special economic zones (SEZs) to include common infrastructure facilities for MSMEs and make the country an important hub in global supply chain on aerospace and defence production.
Utilising India's talent pool
India has a large pool of qualified scientists and engineers leveraged by a growing number of foreign OEMs who have set up engineering and design centres. To help the aerospace and defence sector jump-start its development, it is imperative to form meaningful partnerships with academia or private institutions. The nation's existing talent and low-cost base can be leveraged to attain a competitive position in developing next-generation technologies.
Conclusion
For indigenisation to be achieved it is important for the government to put in place a concrete time bound action plan to not only 'enhance' indigenisation but to achieve self-reliance in defence within set time frames. Also, Industry's partnership with the Indian Space Research Organisation (ISRO) and the Nuclear Power Corporation of India Ltd (NPCIL) is a shining example of PPP, which can be emulated by the defence and aerospace sectors.