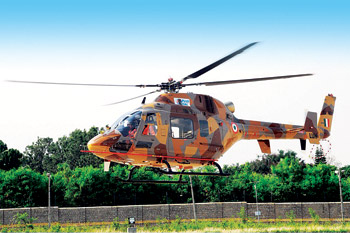 On the heels of maiden flight of HTT-40 (PT-2), the Hindustan Aeronautics Limited (HAL) carried out first flight of Light Utility Helicopter (LUH)-PT-2 on May 22, 2017, at its facility in Bengaluru. The chopper was flown by Chief Test Pilot Wing Cdr Unni K Pillai (Retd) and Test Pilot Wing Cdr Anil Bhambhani (Retd). The flight duration was about 22 minutes and pilots reported nil snag.
These maiden flights of indigenous aircrafts are testimony to HAL's rapid progress towards 'Make in India' campaign both in fixed and rotary wing segments. These prototypes add strength to ongoing test flights to achieve operational clearance cutting the time frame, said T. Suvarna Raju, CMD, HAL.
The LUH PT2 has modified tail boom and incorporates improvements based on feedback from testing of LUH PT1. The first flight of LUH PT1 was carried out on September 6, 2016 and further envelope expansion flights are in progress. LUH PT-1 made its flight demonstration during the international air show Aero India-2017 held in February 2017.
HAL plans to carry out further flight testing on PT1 & PT2 in the months ahead to freeze the helicopter configuration by end of this year. Senior officials from HAL, representatives from RCMA(H/c), AQA, IAF and Army were present during the flight.
The LUH is a 3-tonne class, new-generation helicopter being indigenously developed by HAL to meet the requirements of both military and civil operators. The helicopter with glass cockpit will be deployed for reconnaissance, surveillance roles and as a light transport helicopter. The helicopter will be capable of flying at 220 kmph, with a service ceiling of 6.5 km and a range of 350 km with 400 kg payload. The LUH is powered by TM/HAL Ardiden 1U/Shakti 1U single turbo shaft engine with sufficient power margins to cater to demanding high altitude missions.
An integrated facility for manufacturing the LUH along with systems, components and the engine is planned at Tumakuru, near Bengaluru in Karnataka.