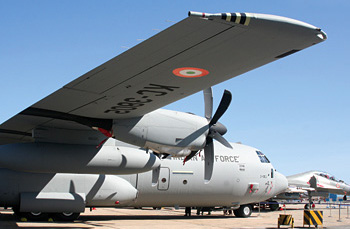 As a part of the ongoing process of resources' optimisation, Lockheed Martin has moved its India office to The Grand Plaza Hotel at Vasant Kunj. Henceforth, the new office address will read as:
Lockheed Martin India Pvt Ltd
The Grand Plaza, The Grand Hotel
Nelson Mandela Road, Vasant Kunj,
Phase - II
New Delhi 110070
It will be important to have a quick look at the company's agenda for the country. As per Roger Rose, Chief Executive, Lockheed Martin, India not only has some important projects ongoing in hand but also has long-term plans for the country which quite interestingly include some highly diversified areas.
The company is apparently quite positive about its successful C-130J programme for the Indian Air Force which it claims has been "under budget" and delivered well "ahead of time".
While the supply of a total of six initial aircraft has been concluded, the US Government has offered a countersigned LoA in response to a request from the Ministry of Defence (MoD) for additional six aircraft. "There is a strong potential of additional orders from the Indian Air Force, if we continue to perform," adds Roger Rose.
The India Meteorological Department is seriously considering the WC-130J weather version of the aircraft, known in the US as the "Hurricane Hunter". Lockheed Martin is also considering offering C-130's maritime patrol aircraft (MPA) version to the Indian Navy and the Indian Coast Guard. An ongoing joint venture (JV) with Tata Advanced Systems in Hyderabad is involved in production of tail sections and centre wing box components for global customers.
The company is currently at the initial stages of discussions of potential provision of PAC-3 Air Defence System (operational in various countries including USA) to the Indian Army. Javelin, the shoulder-fired weapon system jointly produced by Raytheon and Lockheed Martin is another potential which is being pursued to meet the requirements floated by the Indian Army.
A few other major programmes such as Boeing's Apache for Indian Air Force, MH-60 R/S helicopter (with Sikorsky) for the Indian Navy, laser-guided bombs for the Indian Air Force, and the emergency high frequency antenna on Scorpene submarines are being actively worked upon by Lockheed Martin.
The world's largest defence contractor's Corporate Engineering & Technology group is active on highly diversified areas such as the multi-objective ocean thermal energy conversion (MOOTEC) project with the National Institute of Ocean Technology (NIOT) in Chennai.
It is also pursuing a few unmanned aerial vehicle (UAV) programmes with several different organisations such as Delhi Technical University and a LNG-powered C-130J initiative with Aeronautical Development Agency and Tata.
Even though the company has been eliminated from the big ticket MMRCA programme, it continues to expand its disciplined programme performance on the C-130J programme and maintains full respect towards the steps taken by the Ministry of Defence to modernise the Indian military.