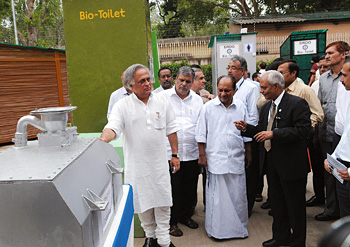 The Defence Research and Development Organisation (DRDO) has entered into a memorandum of understanding (MoU) with the Ministry of Drinking Water and Sanitation to set up bio-digester toilets across gram panchayats in the country. The Ministry of Drinking Water and Sanitation has earmarked Rs. 400 crore for this programme which will be undertaken in phases, wherein each phase would involve an investment of Rs. 150 crore. The bio-toilets originally developed by the DRDO for soldiers deployed in high-altitude areas, can convert human waste into usable water and gases in an eco-friendly manner. While the gas can be used for cooking purposes, the water can be used for irrigation purposes.
Speaking at a function organised at New Delhi, Jayram Ramesh, Minister of Rural Development, Drinking Water and Sanitation, said, "With just the cost of a single Rafael fighter, 1,000 gram panchayats can be rid of open defecation. The Ministry of Defence (MoD) has been allocated Rs. 1,93,000 lakh crore this fiscal, while the rural development budget is Rs. 99,000 crore." The Minister for Rural Development however also said that there can be no compromise on spending for defence of the country, but the technologies developed by DRDO should be beneficial to the society. He hoped that the collaboration between the two Ministries will go a long way and as India is a poor country, whatever we spend, we need to spend wisely.
Defence Minister A.K. Antony said that DRDO would undoubtedly provide the technology, but it was up to the Rural Development Ministry to take it further and ensure requisite collaboration from state governments, other local bodies and NGOs. "It is now only a pilot project and can be a successful national programme only when you ensure that all state bodies are onboard. Money provided in the budget for defence is for national security," he said. "Bio-digester which is a spinoff from the DRDO technology is now being intelligently implemented for societal benefit. This technology is not just eco-friendly but is also cost effective and DRDO will try to further reduce the cost."
During the event, Vilasini Ramachandran, Secretary, Ministry of Drinking Water and Sanitation, and Dr W. Selvamurthy, Offg Secretary, Department of Defence Research and Development, exchanged vows to help gram panchayats do away with human wastes and open defecation. And to start with, under Phase I, Rs. 150 crore has been sanctioned to provide 1,00,000 bio-digester toilets in 300 gram panchayats of the country. The bio-toilets have already been implemented by DRDO in Siachen and Jammu & Kashmir. The Indian Railways too has already entered into an agreement with DRDO to install bio-toilets in its coaches. Likewise, DRDO has already installed six twin bio-digesters in Jamjhari-Dhamra, close to the Wheeler Island off the coast of Odisha in June this year.