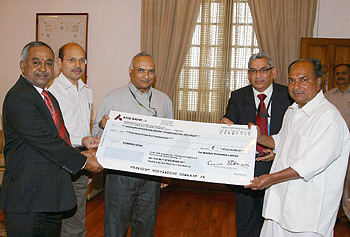 S.N. Mantha, Chairman and Managing Director, Bharat Dynamics Limited (BDL) presented a dividend cheque of Rs. 47 crore for the financial year 2011-12 to the Defence Minister A.K. Antony recently.
The dividend by BDL, a Hyderabad-based public sector unit under the Ministry of Defence, works out to 40.87 per cent on the paid-up share capital of Rs. 115 crore.
This is the highest-ever dividend paid by Mini-Ratna Category–1 Company, which has achieved a record turnover of Rs. 959 crore during the financial year 2011-12.
To meet the growing demands of the Indian armed forces, BDL has embarked on an expansion drive. The company is setting up shortly its fourth manufacturing unit at Amravati in Maharashtra and the fifth one at Ibrahimpatnam in Andhra Pradesh.
Recently, the company has signed two contracts with the armed forces for refurbishment of vintage missiles held by the services. With this, BDL has added another business line to its field of activity.
In its pursuit of self-reliance in the field of critical technologies, BDL has productionised imaging infrared seekers for Nag anti-tank guided missile. The ToT was given by DRDO. With this, BDL has joined the elite group of companies producing Seekers in the world.