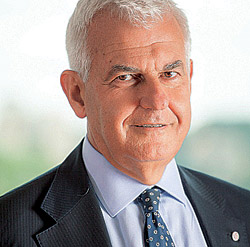 The Leonardo board has ppointed Alessandro Profumo as the Chief Executive Officer, giving him all the attributions for the unitary management of the Company and the Group. Alessandro Profumo stated "I am honoured to have been entrusted with this role, and I thank the shareholders and the members of the Board of Directors for putting their trust in me. I am aware of the great responsibility that comes with being at the helm of a company such as Leonardo, a high-tech champion and world-leader in the Aerospace, Defence and Security sector.
"Leonardo has always been able to attract the best technical engineering talents, and in order to sustain excellence in its products and technologies, it must seek to exploit fully this capability both in Italy and abroad.
"International competition is based increasingly on human capital, on knowledge and on the ability [to] be in tune with the customer, providing them with sustainable solutions that are geared to their requirements; in addition to a strong focus on financial and economic robustness.
"Today Leonardo is a solid business with all the characteristics needed to compete in global markets strengthening its position in different sectors."