Country's most potent indigenous warship joins service this month
By SP's Special Correspondent
Photo Credit: MDL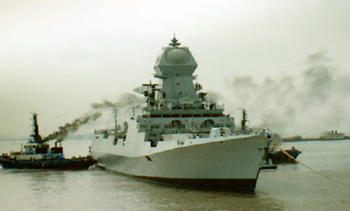 June 02, 2014: The honour of first warship to be commissioned into service under the new government will fall on INS Kolkata. The first of the indigenously designed and constructed Kolkata-class destroyers joins service with the navy this month under the command of Capt Tarun Sobti and a complement of over 300 crew. The 7,000 ton warship, built at the Mazagon Dock Ltd (MDL) will be by far the most lethal warship ever to enter service with the Indian Navy, in terms of sheer armament and bang for buck. The ship comes armed with anti-ship, anti-air missiles, guns and anti-submarine torpedoes, in addition to the capacity to deploy two helicopters. The ship's heart, its primary sensor is the IAI EL/M-2248 MF-STAR AESA multi-function radar, in addition to being fitted with the IAI EL/M-2238 L-band STAR surveillance radar, BEL HUMSA-NG bow sonar, BEL Nagin active towed array sonar, BEL Electronic Modular Command & Control Applications (EMCCA Mk4) combat management system and the Thales LW-08 D-band air search radar. The second and third ship in the class, the Kochi and Chennai, will be commissioned in December 2014 and next year respectively.