India to export sonars to Myanmar
By SP's Special Correspondent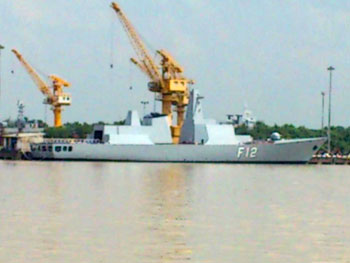 November 11, 2013 : In an unprecedented move signalling heightened cooperation with neighbours, India will export indigenously developed sonar systems to Myanmar, for use by its navy. Three HUMSA sonars, developed by DRDO and built by Bharat Electronics Ltd (BEL), will be supplied to Myanmar in the hull-mounted configuration for the country's future Frigates, three of which—the UMS Aung Zeya, UMS Kyan-Sit-Thar and a yet unnamed third—are currently in various stages of construction at separate shipyards. HUMSA is the enhanced version of the state-of-the-art Hull Mounted Panoramic Sonar designed for the Indian Navy in the nineties. This family of medium range active-cum-passive dual band sonars, optimised for both shallow and deep-water operations has proved its efficacy even in the highly variable tropical waters for more than a decade, according to DRDO.