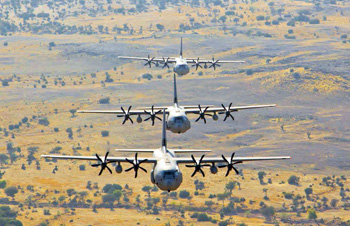 Hercules C-130J aircraft practicing low level tactical formation over desert of Rajasthan in preparation for 'Exercise Shoorveer'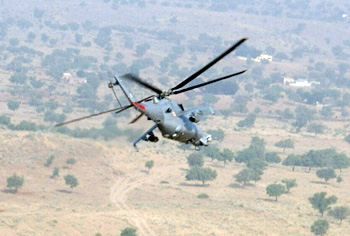 Mi-35 attack helicopter overflying a column of tanks during 'Exercise Shoorveer'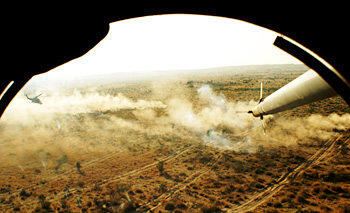 Mi -35 attack helicopter seen in action during 'Exercise Shoorveer'
The Indian Army and Air Force have just completed one of their most complex integrated theatre battle concept exercises in the deserts of Rajasthan, Exercise Shoorveer. With the elite 1 Strike Corps in the lead, supported by the Chetak Corps and all other relevant elements of South Western Army command, the formations tested brand new battle fighting concepts and doctrines with heavyduty real time images of the battle zone beamed to a centralised command and control centre from platforms that included fighter jets, unmanned aerial vehicles (UAV) and attack helicopters, all coming together to wage war in network centric environment. The exercise included massed tank drills backed by long range artillery guns. More than 300 combat vehicles including main battle tank T-90, T-72, long-range 150 mm artillery guns, multi barrel rockets and about 60,000 troops in Shoor Veer.
A standout feature of the exercise was the integrated air-land war-fighting machinery and the synergy between the Indian Army and IAF, which fielded its Sukhoi-30 MKI, MiG-29, MiG-21 Bison, Cheetah, Chetak and Mi-25 attack helicopters. Tactical transports like the new C-130Js and upgraded An-32s also took part in the exercise. The air doctrine being tested is based on the supposition that counter surface force operations are crucial to the overall success of the land operations. The IAF's Mi-17s engaged in Special Heliborne Operations (SHBO). The combat support role involved airborne assault operations, where a large number of paratroopers were para-dropped into the operational area during the exercise.
This was the final theatre concept exercise based on a transformational study of the Indian Army pioneered by Army Chief General V.K. Singh. It was the final exercise he witnesses before retiring at the end of May. The concepts introduced in his study were based on organisational structures and absorption of new age technologies, particularly in the fields of precision munitions, advanced surveillance system, space and network-centricity.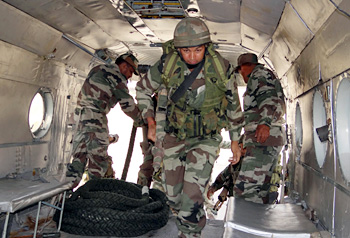 Mi-17 helicopter carrying troops in 'Exercise Shoorveer'
| | |
| --- | --- |
| | |
| Mi-17 helicopter in 'Exercise Shoorveer' | Armoured Assault using T-90 during 'Exercise Shoorveer' |
| | |
| T-90 and T-72 tanks during the Exercise | An Indian Army tank in action |