| | |
| --- | --- |
| | The Author is Former Director General of Information Systems and A Special Forces Veteran, Indian Army |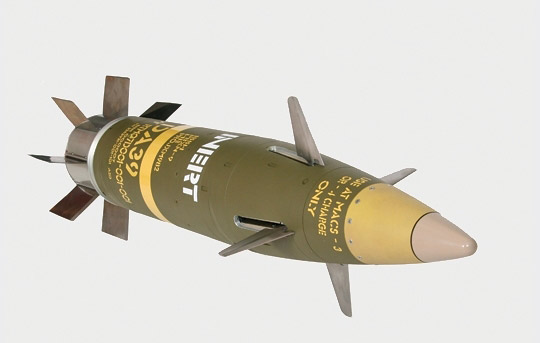 M982 Excalibur Precision Guided Extended Range Artillery Projectile
On October 20, 2019, Indian Army (IA) for the first time used the 155mm M982 Excalibur artillery rounds against Pakistani positions and terrorist launch pads across the Line of Control (LoC). The M982 Excalibur round is trajectory correctable munitions that uses GPS technology to accurately guide a shell to its target, facilitating coordination using mid-course flight path correction. TCM accuracy and first-round hit probability of 155mm M982 Excalibur artillery rounds is significantly higher than that of conventional ammunition facilitating its use in close support situations within 150m of friendly troops and for avoiding collateral damage when attacking enemy targets. Latter is significant where the IA avoids civilian casualties in Pakistan occupied J&K (PoJK) in sharp contrast to Pakistan indiscriminately targeting Indian villages, civilians and even movement of school children.
The counter-attack by the IA came after two soldiers and a civilian were killed and three others were injured in unprovoked Pakistani firing on October 19 at Karnah in J&K's Kupwara district. A villagers house two cowsheds and a rice godown completely destroyed. News reports citing un-named Ministry of Defence (MoD) officials said that while four launch pads in Neelum Valley were hit, launch pads in Jura, Athamuqam and Kundalshahi were also decimated in the Indian Artillery fire on October 20, and that ammunition and ration depots of the Pakistani Army were also hit using the precision long range ammunition. After the artillery counter offensive, Army Chief General Bipin Rawat stated, "On the basis of reports that we have been getting, 6-10 Pakistani soldiers have been killed; three terror camps have been destroyed. There have been damages to a fourth camp too. Similar number of terrorists has also been killed. In the retaliatory action, we have caused severe damage to terrorist infrastructure. Terrorist camps opposite Tangdhar sector have been destroyed, Last evening, an attempt was made in Tangdhar to infiltrate terrorists and we retaliated... It was decided that we target terror camps across the LoC. We had the coordinates of these camps." Another news report in the Indian media talked, quoting un-named officials in the security establishment, that that at least 18 terrorists were killed along with 16 Pak Army personnel on October 19 and 20 though the IA has not confirmed the number killed. Such reporting is more of speculation and conjecture and should be viewed in backdrop of the above statement by General Bipin Rawat. As expected, the Pakistan military rejected the Indian claims of at least targeting three terror camps in PoJK as "false" and said that India is welcome to take any foreign diplomat or media to the site to "prove" its claim on the ground.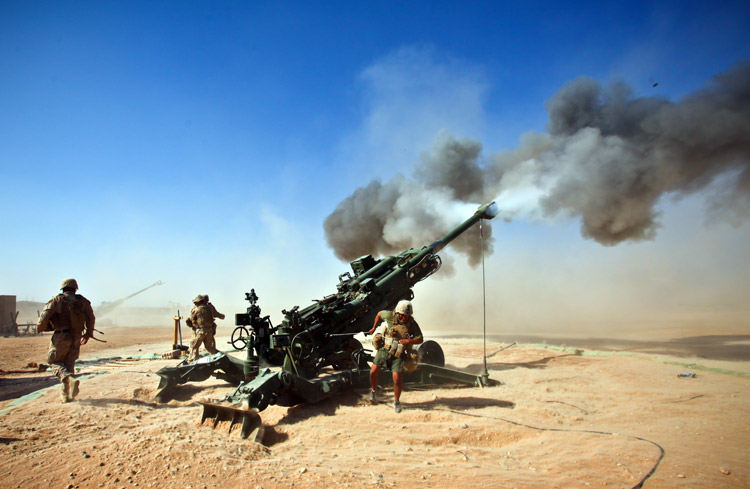 U.S. Marines fire an M982 Excalibur round from an M777 155 mm howitzer
The last bit is actually laughable – would Pakistan permit India to take foreign diplomats to site of the destroyed terror camps/launch pads. But responding to General Rawat's statement Major General Asif Ghafoor, Pakistani military spokesman stated, "The Indian Army chief's statement claiming destruction of 3 alleged camps is disappointing as he holds a very responsible appointment. There are no camps let alone targeting those. Indian Embassy in Pakistan is welcome to take any foreign diplomat/media to 'prove' it on the ground. "Such false claims by the Indian Army are being made to suit vested domestic interests. This is against professional military ethos." To add to the subterfuge, Pakistani military took a band of foreign diplomats to un-named locations close to the LoC to show no terror camps were destroyed and that IA was firing indiscriminately causing civilian casualties. Best part is they accused India of not providing coordinates of the terror camps destroyed – so which locations were the diplomats shown on the ground? In wake of continued unprovoked firing and terror attacks by Pakistan, the IA imported the M982 Excalibur artillery ammunition under the emergency powers of the Vice Chief of Army Staff. These rounds can be used in the new lightweight M777 Howitzers procured from America's BAE Systems, The ammunition has a reach up to 57 km and also is compatible with the K-9 'Vajra' tracked Howitzers that India bought from South Korea in 2017 and is now being produced under 'Make in India'. Though number of Excalibur rounds used by IA on October 20 is not known, continued import of Excalibur must also be viewed in context cost versus kills. The second equally important issue is that despite the demonstrated effectiveness of the artillery counter offensive of October 20, unprovoked cross-border firings, sponsored terror attacks and killings by Pakistan have not ceased, and even a BAT attack occurred in which a JCO and another soldier was killed. The answer lies in not just trans-border artillery assaults but carrying the sub-conventional war effectively into PoJK-Pakistan on continuous basis. India has yet to show that resolve.