| | |
| --- | --- |
| | The Author is Former Director General of Information Systems and A Special Forces Veteran, Indian Army |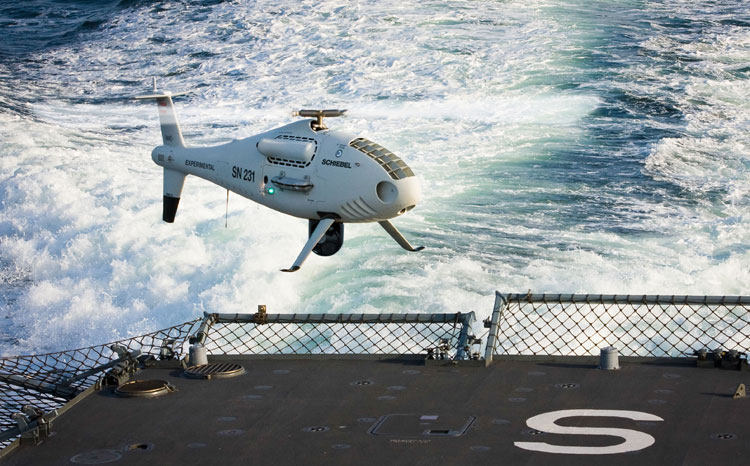 CAMCOPTER S100
The Ministry of Defence (MoD) has issued a Request for Information (RFI) on February 24, 2020, for a Naval Ship-borne Unmanned Aerial System (NSUAS) as the Indian Navy (IN) is looking at acquiring 15 naval ship-borne drones for surveillance and reconnaissance roles at sea. The RFI has listed out the operational requirements for the NSUAS; The NSUAS will be launched from a ship and used for Surveillance including Signal Intelligence (SIGINT), Target Acquisition, Reconnaissance and building Maritime Domain Awareness (MDA) around a Task Group. The secondary roles of NSUAS would include anti-piracy, anti-terrorist activities and assist in Search and Rescue (SAR). The RFI lists out technical parameters of the proposed NSUAS, which include: ability of Remotely Piloted Aircraft (RPA) and its payloads to undertake defined tasks; modular design and easy to repair in field; should have low radar and acoustics signature; RPA and all subsystems fully inter-operable with IN users; minimum number operators to operate and maintain NSUAS; specify optimum number of operators required to maintain and operate the system including qualifications/ prior training/ experience; basic composition of NSUAS to at least include modular RPA, two control stations (main and standby), Launch System, Point Recovery System, two Ship Data Terminal; Engineering Support Package (ESP), Specialised Role Equipment, two Remote Video Terminals (RVT). NSUAS should be capable of operating from ships and shore by day and night and in low visibility conditions.
Through the RFI, global firms have been asked to respond in four weeks time. Depending on the responses a Request for Proposal (RFP) would likely be issued by the end of the year under the 'Make in India' category of the Defence Procurement Procedure (DPP). The RFI stipulates vendors to indicate the tentative delivery schedule for supply of the equipment after conclusion of contract. The IN envisages the first NSUAS being delivered within 12 months from the date of signing of contract and one system every month thereafter. But signing of the contract may be many months away depending on issue and responses to the RFP, technical evaluation, comprehensive trials, joint venture under strategic partnership (SP), joint venture, transfer of technology (ToT) etc.
The primacy for the IN to monitor the Indian Ocean Region (IOR) needs no emphasis considering increased Chinese activities in the region including periodic snooping in vicinity Indian shores particularly the Andaman and Nicobar Islands (ANI), China-Pakistan naval exercises and ongoing ports/bases development by China to meet its strategic ambitions under garb of the BRI initiative. On December 3, 2019, Naval Chief Admiral Karambir Singh had stated that there were seven to eight Chinese warships present in the IOR. China already has two aircraft carriers with another two under construction, 50 diesel-electric and 10 nuclear submarines, 33 destroyers, 54 frigates and 42 corvettes among other vessels. China also has large civilian boat militia which is fully militarised, which also has large presence in IOR. There have been incidents of China's civilian boat militia engaging pilots of foreign aircraft with lasers in South China Sea. The Chinese base in Djibouti has also fired lasers at US pilots. The NSUAS will beef up IN capabilities in surveillance and reconnaissance, Sea Lanes of Communication (SLOCS) monitoring and Coastal / Exclusive Economic Zone (EEZ) surveillance, anti-piracy and anti-terrorism, assistance in SAR. Media reports of last year had indicated that the IN is looking at procuring 30 x Sea Guardian unmanned aerial systems (UAS), and another Boeing 10 x P-8I Poseidon multi-mission maritime aircraft (MMA) for monitoring the Indian Ocean.
The RFI issued by MoD for 15 x NSUAS on February 24, 2020, perhaps is to cover part requirement of the IN looking to procure 30 x UAS reported in media last year, possibly due paucity of funds. The P-8I aircraft already occupy a pride of place in the IN and are deployed for a variety of operations, from submarine tracking to search and rescue (SAR) and even reconnaissance over land. The first batch of 8 x P-8I aircraft were ordered under a $2.1 billion deal in 2009 and a follow on order for four was placed in 2016. P-8I aircraft that specialises in tracking and hunting down enemy submarines with lightweight torpedoes and depth charges are also operated by the US and Australian navies, which operate in coordination with India to keep track of ship movements. With the contract of additional 10 x P-8I aircraft, the Navy's fleet of P-81 aircraft will go up to 22 ensuring these aircraft arrive early with continuous supply over the next four years, facilitating and compensating for older maritime reconnaissance assets of Russian origin retiring. During the recent visit of US President Donald Trump, deal for importing 24 x MH-60R Seahawk Anti-Submarine Helicopters costing $2.6 billion from the US was signed.
The deal includes accessories, spare parts, and technical support and maintenance facilities. The Seahawks are to be equipped with cutting edge sonar and radar to detect submarines travelling on the surface or just below the surface - modern nuclear submarines travel just below the ocean surface to get rid of exhaust fumes. Given the prowess of ISRO, India must also plan its own satellite constellation (deploying low-costing ISRO satellites) focused 24x7 on the India Ocean, in addition to Navy's maritime surveillance platforms under procurement. IN has a liaison officer posted at NAVCENT in Bahrain and our Naval HQ is already linked with USINDOPACOM.