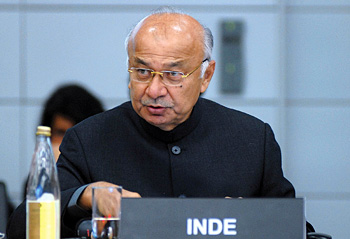 Following the election of Pranab Mukherjee as the 13th President of India and the Finance Minister's slot opening up, the Prime Minister has effected a minor cabinet reshuffle. The finance portfolio has gone back to P. Chidambaram, while Sushil Kumar Shinde has been made the Minister for Home, moving from the Power Mministry.
Shinde began his career first as an office assistant in a local court and then as a police sub-inspector in Mumbai. Shinde graduated with honours in arts from the Dayanand College and then obtained a law degree from Shivaji University.
It was Sharad Pawar who brought Shinde in to active politics in 1971. While Pawar parted ways with the Congress, Shinde remained loyal. He won his first election in 1974 from Karmala and became a minister. From then on, Shinde never looked back and went on to win four successive elections. In 1992 and 2006, he was elected to the Rajya Sabha. In 2003, he became Maharashtra's first Dalit Chief Minister. In 2004 after the Congress won elections in Maharashtra, Shinde was made the Governor of Andhra Pradesh which he held for about a year.