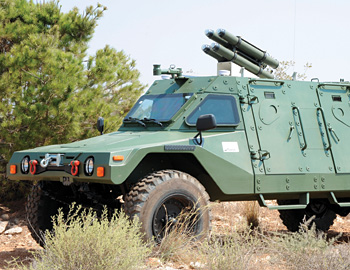 Israel Aerospace Industries (IAI) presented its new armoured tank hunter/killer system: the RAM MK3 'AT' (antitank) configuration at the Fidae Air Show in Santiago, Chile.
The new configuration is based on the fielded RAM Mk.3 light-weight and high-terrain capability armoured vehicle, developed and manufactured by IAI's RAMTA division. As its main weapon system it carries four NIMROD SR (shortrange) missiles on pop-up launchers. NIMROD SR weapon wystem, developed by IAI's MBT Missiles division, is a semiactive laser guided missile. It can be designated by the firing RAM-AT or by an indirect designation, by helicopter, UAV, forward observers etc. The NIMROD SR missile has a range of up to 8 km when launched from the RAM-AT platform.
"This powerful combination highmanoeuvrable capability and firepower allows a mobile combat force to use extreme terrain to its tactical advantage by bringing the sum of these two proven battlefield assets to bear on enemy armour wherever it may be found", said an executive of RAMTA.