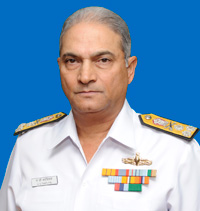 Vice Admiral Anurag G. Thapliyal has taken over as the 20th Director General of Indian Coast Guard on February 28, 2013, succeeding Vice Admiral M.P. Muralidharan.
Since commissioning in the Indian Navy on July 1, 1977, Vice Admiral Anurag G. Thapliyal has held a mix of operational and sea appointments. He is a Navigation and Aircraft Direction specialist and his various sea appointments include command of INS Ajay, Khukri, Tabar and Mysore. He has also commissioned INS Cheetah as a Navigating Officer in Poland, and INS Ajay and Tabar as Commanding Officer, both in Russia. The Flag Officer has also been the Fleet Operations Officer, Eastern Fleet at Visakhapatnam.
He has also held several challenging appointments on shore which include the appointments of Chief Instructor ND School, Deputy Director Naval Operations, Joint Director Naval Plans at the Integrated Headquarters of MoD and Director Maritime Warfare Centre, Visakhapatnam. He is an alumnus of Naval War College, USA and Defence Services Staff College Wellington and possesses Masters Degrees in Physics as well as Defence Studies. He has been the Chief of Personnel at the Integrated Headquarters of the MoD, prior to taking over as the DG Coast Guard. The Flag Officer is a recipient of AVSM.