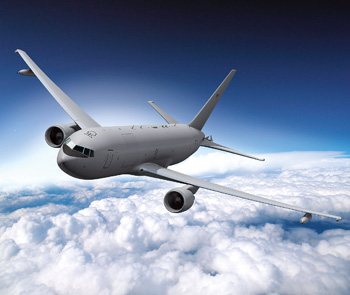 The Boeing KC-46 Tanker programme recently marked the first anniversary of receiving a US Air Force contract to build the next generation aerial refuelling tanker, the KC-46A. Over the past year, the programme has completed key milestones in support of the design and development phase on or ahead of schedule, and is now preparing for a preliminary design review (PDR) in March.
"The KC-46 programme is on a good path. Boeing's performance thus far has been solid," said Major General Chris Bogdan, KC-46 Program Executive Officer, US Air Force. "Our commitment is to deliver the KC-46A to the nation's warfighters, on schedule and ready to go to war on day one, as the world's most advanced tanker. I'm pleased to report that Boeing is meeting its commitments."
Since receiving the contract on February 24, 2011, the Boeing KC-46 team has completed several major milestones, including a system requirements review, integrated baseline review, 767-2C PDR, and firm configuration reviews for the 767-2C and the KC-46A Tanker.
Boeing will build 179 next generation aerial refuelling tanker aircraft that will begin to replace the Air Force's fleet of 416 KC-135 Tankers. The KC-46A Tanker is a wide body, multi-mission aircraft updated with the latest and most advanced technology to meet the demanding mission requirements of the future, including a digital flight deck featuring Boeing 787 Dreamliner electronic displays and a flight control design philosophy that places aircrews in command to maximise combat manoeuvrability.