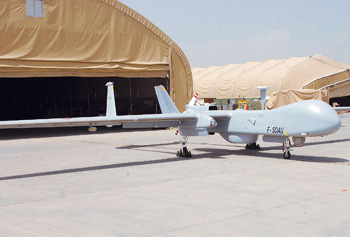 On February 16, 2012, the French Air Force's Harfang drone detachment carried out its final mission in the Afghan theatre, after more than 5,000 flight hours.
The detachment has been deployed on Bagram air base since February 2009, and operated by about 40 Airmen of the 01.033 "Belfort" UAV squadron based in Cognac.
With over 5,000 flight hours performed in theatre, during 660 operational sorties, the detachment provided 3,500 hours of video imagery to operational units and to command centres. About 40 per cent of Harfang missions were flown in support of French units, and the other 60 per cent in favour of other national contingents, mainly deployed in the Eastern Region.
Harfang, a MALE (medium altitude long endurance) unmanned vehicle, is equipped with the ROVER (remote operations video enhanced receiver) transmission system that broadcasts video imagery in real time to combat troops on the ground.
The detachment mostly supported ISAF by flying reconnaissance missions to gather data used for operational planning and to monitor operational areas, as well as for convoy escort, contributing to the fight against improvised explosive device and direct support the operations of ground troops.
The return of the airmen of the UAV detachment marks the beginning of the third phase of French disengagement from Afghanistan. Four hundred soldiers have been withdrawn in October and December 2011. Two hundred more will follow in March, comprising the Harfang detachment and a combat company belonging to the joint tactical group Surobi.