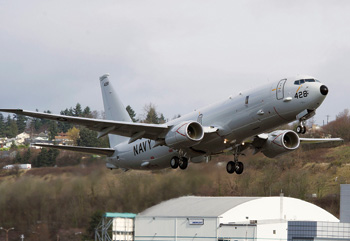 Boeing has recently delivered the first production P-8A Poseidon aircraft to the US Navy in Seattle. The P-8A is the first of 13 anti-submarine warfare, anti-surface warfare, intelligence, surveillance and reconnaissance aircraft Boeing will deliver as part of a low-rate initial production (LRIP) contract awarded in 2011.
"Delivering this capability to the warfighter is the ultimate goal and we're proud to be able to meet our commitment and hand over the P-8A 'keys' to the Navy fleet," said Chuck Dabundo, Boeing Vice President and P-8 Programme Manager. "This is a great day for Boeing, our supplier teammates and our Navy customer."
A derivative of the Next-Generation 737-800, the Poseidon is built by a Boeing-led industry team that includes CFM International, Northrop Grumman, Raytheon, Spirit AeroSystems, BAE Systems and GE Aviation.
The Navy plans to purchase 117 Boeing 737-based P-8A aircraft to replace its P-3 fleet. Initial operational capability is planned for 2013.