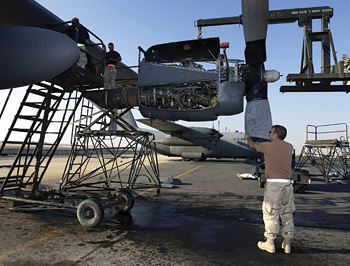 Rolls-Royce, the global power systems company, and the United States Air Force will soon begin flight tests of an engine upgrade for the T56 turboprop engine, which powers the C-130H transport aircraft. The Series 3.5 upgrade is designed to deliver both fuel savings and reliability improvements, as well as improved life cycle costs.
Rolls-Royce has delivered upgrade kits to be installed on an Air Force C-130H test aircraft, with flight tests scheduled to begin by mid-year. The enhancements use proven technologies from other Rolls-Royce commercial and military engines, including new blade materials and advanced turbine airfoil aerodynamic designs.
The engine upgrade programme is expected to deliver significant benefits to the Air Force's C-130H fleet, enabling the aircraft to continue operation until 2040 while delivering fuel savings of 8 per cent; along with improved reliability and performance. The Series 3.5 enhancement will also improve "hot and high" performance. Approximately 220 C-130H aircraft are eligible for upgrades.
"We recognise the US Air Force has a goal of improving energy efficiency, and Rolls-Royce has invested to help this valued customer meet its goal. In doing so, we improved engine reliability and performance, which will enable the Air Force to extend the life of its C-130 fleet for decades while potentially saving billions of dollars," said Patricia O'Connell, President, Customer Business, Rolls-Royce Defense.
An Air Force analysis estimated longterm savings of $3.5 billion from the Series 3.5 enhancements over the lifetime of the fleet. The engine upgrade can be accomplished as part of a conventional engine overhaul, and does not require any aircraft or engine control system modifications.
The engine upgrades will help the Air Force to achieve its goal of reducing consumption of aviation fuel by 10 per cent by 2015.