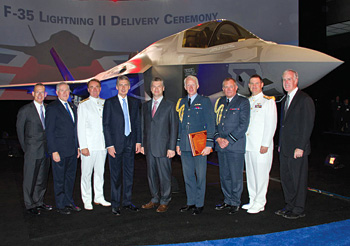 The United Kingdom accepted the first international Lockheed Martin F-35 Lightning II aircraft recently. Philip Hammond, UK Secretary of State for Defence, and Frank Kendall, US Undersecretary of Defense for Acquisition, Technology and Logistics, represented their governments.
"We are here to celebrate an important 'first' among so many milestones associated with the F-35 programme," said Bob Stevens, Lockheed Martin Chairman and Chief Executive Officer. "It's fitting that our first delivery to an international partner is to the United Kingdom, because without sustained British innovation over many generations, we would not have an event to celebrate today."
The UK was the first of eight international partners to join the F-35 programme and plans to acquire the F-35B short takeoff and vertical landing (STOVL) aircraft. Lockheed Martin is developing the F-35 with its principal industrial partners, Northrop Grumman and BAE Systems.