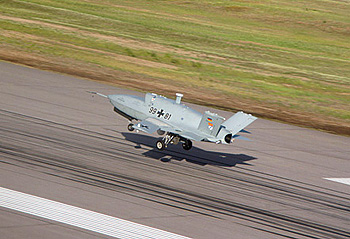 Cassidian has successfully carried out a series of test flights with its Barracuda UAS (unmanned aerial system) technology demonstrator at Goose Bay military airfield in Canada.
This year, the unmanned aerial test bed completed five test flights in June and July 2012 in the context of the research and development programme "Agile UAV in a network centric environment".
These involved the Barracuda technology demonstrator flying in combination with another unmanned aerial vehicle, which was simulated by a converted Learjet. The two aircraft flew missions where they each had different role profiles that were autonomously coordinated and synchronised with one another.
"With these latest successful flights by our UAS technology demonstrator, we have made another great leap forward in our developments for the world's most promising future markets in our industry," said Cassidian CEO Stefan Zoller after the flying test bed had landed safely at Goose Bay Canadian air force base.