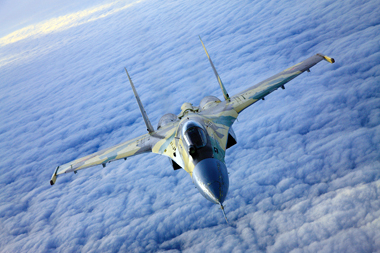 Su-family combat aircraft have been exported since 1964. Over 2,500 Su-7, Su-17, Su-20, Su-22, Su-24, Su-25, Su-27, Su-30 aircraft and their modifications were delivered to the Air Force of more than 30 countries.
The aircraft were delivered to different countries of Europe, Asia, Africa and South America. They are still in service in many armies of these countries. The Su-family aircraft have proved to be reliable and effective combat systems capable of performing a wide range of combat missions.
Over the past decades, as from 1996, the main export potential of the Su-family aircraft is centred on various modifications of the Su-30-type multipurpose fighters. Sales of these machines together with contracts for airborne weapons and related equipment account for up to half of all foreign military supplies of the Rosoboronexport.
In the years 2000s with the advent of the Su-30MKK and its further modification — Su-30MK2 — a significant increase in exports can be noted. This is a multi-purpose two-seat fighter able to strike air, land and sea targets. A large amount of foreign supplies is associated with the implementation of the Indian programme of development and production of the Su-30MKI multi-purpose strike fighter with the latest onboard avionics complex. Modifications of the Su-30 fighter are supplied to other countries as well.
Currently the multi-purpose Su-35 fighter undergoes tests. The aircraft has a large number of fifth generation technologies and advanced technical solutions. Its radar with an unprecedented operating range (up to 400 km), the engine with a thrust of 14.5 tonnes with thrust vector control, an early warning system for irradiation, an optical radar station, missile launch detection sensors and laser irradiation sensors give the aircraft superiority over all the other fighters of the fourth generation and the four+ generation aircraft and make it ready for any combat conditions.
Production of Su-35s for the Russian Air Force are manufactured at the Sukhoi's KnAAPO factory in Komsomolsk-on-Amur. At present the Su-35 possible deliveries are discussed with foreign customers. This aircraft ensures preservation of the Sukhoi Company's competitiveness on the world market till the start of serial production of the PAK FA fifth generation fighter aircraft.
Work on the export version of the fifth generation fighter — a prospective multifunctional fighter is in progress together with India. This aircraft has considerable export potential.