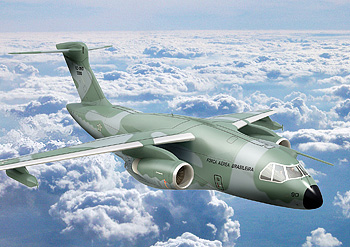 Safran was selected by the Brazilian aircraft manufacturer Embraer to supply the electrical power distribution and back-up power generation systems on its new KC-390 military transport aircraft. This represents a real challenge for the electrical energy system specialist, which has broadened its field of expertise for the requirements of this programme. It marks yet another step towards "more electric" aircraft.
It is no coincidence that Hispano-Suiza (Safran) is working on the KC-390. Two key factors played their role: firstly, Embraer was interested in working with new suppliers in the field of electrical power generation and distribution and, secondly, Hispano-Suiza responded to this requirement by putting forward an innovative range, through the Safran Power division. The contract includes the supply of the primary and secondary electrical distribution systems as well as the Ram Air Turbine (RAT), a back-up electrical generation system.
The primary electrical power distribution system is the heart of an aircraft's electrical system. It encompasses the energy generated by all power sources on the aircraft and ensures that this energy is available for all aircraft systems by intelligently managing the network. The secondary power distribution system provides electrical power for equipment that can be turned on or off as need according to the flight phase, such as interior/exterior lighting and the cabin air management system.
Other Safran companies are also working on the KC-390: Messier-Bugatti-Dowty was selected for the brakes and landing gear and Sagem for the horizontal stabiliser trim control system.