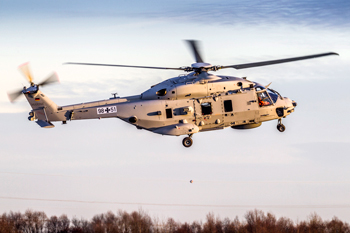 Recently, the NH90 Sea Lion naval multi-role helicopter took off on its on-schedule maiden flight at Airbus Helicopters in Donauwörth. Wolfgang Schoder, CEO of Airbus Helicopters Deutschland and Vincent Dubrule, NHI President welcomed this important milestone in the programme, in presence of Vice Admiral Andreas Krause, Chief of the German Navy, and Ralph Herzog, Director in the Federal Office of Bundeswehr Equipment, Information Technology and In-Service Support (BAAINBw).
"We are proud to perform the first flight of this state-of-the-art naval helicopter to the German armed forces on time," said Wolfgang Schoder. "This new generation of NH90 naval helicopters, the Sea Lion, has benefited from experience gathered by other countries which have been using it."
The NH90 Sea Lion has an increased number of sensors and improved navigation and communications equipment, which means that this military helicopter will also be able to operate in civil air space. The military friend/foe identification has also been updated to the latest standards.
"This first flight is a further signal of the maturity of the European Cooperation between Dutch, French, German and Italian industries around the NH90 Program", said Vincent Dubrule.
Deliveries of NH90 Sea Lions to the Navy will start at the end of 2019. When deployed, it will take on a range of roles including search and rescue (SAR) missions, maritime reconnaissance, special forces missions as well as personnel and materiel transportation tasks. The German armed forces (Bundeswehr) have ordered 18 of these helicopters altogether, with the last due to go into service in 2022.