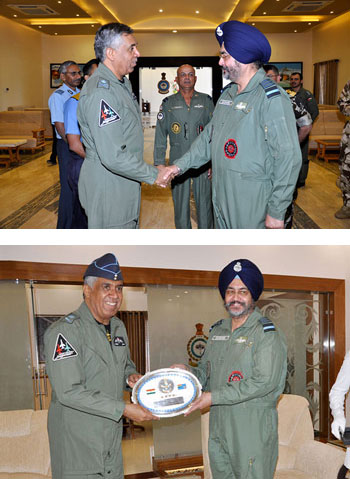 The Chief of the Air Staff, Air Chief Marshal B.S. Dhanoa, PVSM, AVSM, YSM, VM, ADC, and Commander of Royal Air Force of Oman (RAFO) Air Vice Marshal Matar Ali Matar Al-Qbaidani reviewed the progress of fourth joint Indo-Oman Air Exercise Eastern Bridge-IV at Air Force Station Jamnagar on January 18. The exercise commenced on January 16, 2017.
During review the Chief of the Air Staff and Commander of RAFO interacted with the participating crew and held bilateral discussions.The RAFO is participating with five F-16 Block 50 Air Defence Fighters belonging to No. 18 Squadron based at Thumrait. IAF is participating in the exercise with Su-30MKI Air Dominance Fighters, MiG-29 Air Superiority Fighters, Jaguar Maritime Strike aircraft and MiG-27 aircraft.
This is the first time that RAFO F-16s are participating in an air exercise outside the Gulf countries.