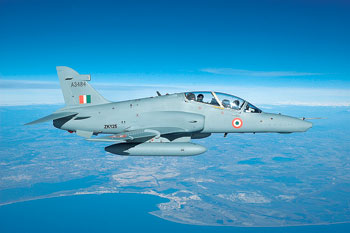 The Hawk advanced jet trainer (AJT) has clocked 1,00,000 hours of flying hours with the Indian Air Force (IAF). BAE Systems, the makers of Hawk Mk132 AJT, termed the achievement as an "important milestone" and a compelling story of success.
BAE quoted Steve Timms, Managing Director, Defence Information, Training and Services, saying: "Hawks provide new-generation training to next-generation air warriors and delivering our commitment to 'Make in India' in partnership with the Hindustan Aeronautics Limited (HAL). The IAF is one of the largest operators of the Hawk globally and we wish its air warriors safe landings." The IAF operates Hawks based out of Air Force Station in Bidar in Karnataka.
The IAF also has its Surya Kiran aerobatic display team now flying the Hawks. The team's first public display of four Hawks was at AFS Hindon during Air Force Day celebrations in 2015. Since November 2016, the team has added two more jets to the display team and eventually the strength will be raised to nine.
BAE credits the latest milestone to the long-standing association with the IAF and HAL. "Together, BAE Systems and HAL are committed to strengthen their relationship through ongoing discussions on exploring long-term sustainable business opportunities, globally," says a company release.
The Indian Navy operates around 17 Hawks, mostly based out of INS Dega in Visakhapatnam in Andhra Pradesh.