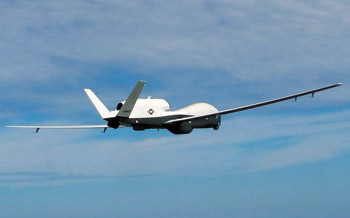 The US Navy's MQ-4C Triton, built by Northrop Grumman Corporation, completed formal lab testing and a successful first flight of an improved software suite that enhances the autonomous unmanned system's operational capabilities and enables early operational capability (EOC) deployment in early 2018.
The Navy conducted the first flight test of the software upgrade which is designed to enhance Triton's capabilities including Traffic Alert and Collision Avoidance System (TCAS), multi-aircraft control and additional Multi-Function Active Sensor (MFAS) radar modes.
"The integration of this enhanced software suite expands Triton's operational maritime intelligence, surveillance, reconnaissance, and targeting capabilities and moves it that much closer to qualification for operational missions in the Pacific theater," said Doug Shaffer, Vice President, Triton Programs, Northrop Grumman. "These flight tests further demonstrate the value and vast potential of this system."
US Navy's MQ-4C Triton is a forwarddeployed, land-based, autonomously operated system that provides a persistent maritime ISR capability using a multi-sensor mission payload (radar, electro-optical/infrared/electronic support measures). The MQ-4C Triton provides real-time intelligence, surveillance and reconnaissance including vessel detection, tracking and classification over vast ocean and coastal regions. Its robust mission sensor suite provides unprecedented persistent 360-degree maritime domain awareness. The aircraft can fly up to 24 hours at altitudes of up to 56,500 feet with an operational range of 8,200 nautical miles and can monitor one million square miles of ocean in a single flight.