While the process for selection of a new FRA is underway, there is trepidation amongst IAF circles about the budgetary deprivation the defence services are afflicted with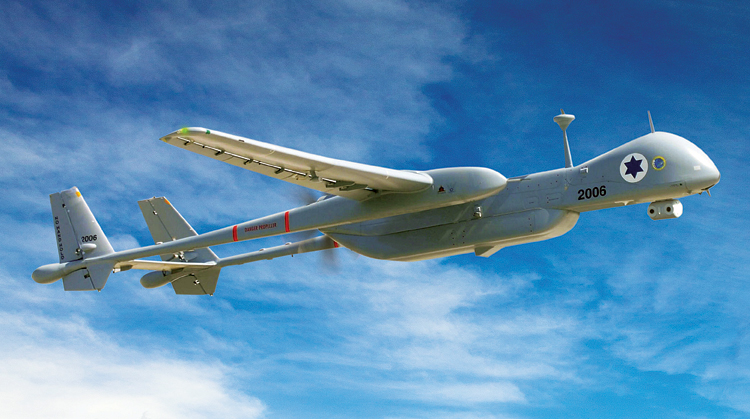 IAI's Heron TP multi-role MALE RPAS
Employment of unmanned aerial vehicles (UAVs) as an airborne platform to carry out multiple roles has proliferated in geometrical progression in the last two decades. It was but a natural corollary to employ them in armed role in dangerous and sensitive areas. For nearly a decade, group of armed UAVs users was limited to the US, the United Kingdom, and Israel. But that club expanded with the entry of Pakistan in 2015. Pakistan used its domestic model, the Burraq—modeled after the Chinese CH-3—to strike militants in the North Waziristan tribal region. Nigeria and Iraq both used versions of China's popular Caihong drone when striking at militants within their borders. Turkey launched a strike in 2016 against presumed ISIS militants on its border region just a year after demonstrating armed drone development capability. Iran also launched its first strike in 2016, though it has been developing its drone capability for decades. Israel along with US have been leading the unmanned revolution but now it appears that China may over take them. General Atomics developed its popular surveillance UAV Gnat with a video camera, gave the US military commanders 96km panorama from a platform that could stay airborne more or less permanently. Gnat was renamed Predator and it was a Predator mission that located Osama bin Laden in Afghanistan in 2000 but efforts to act on that intelligence were frustrated by the complexities of launching a raid and by concerns about the risks to US troops and civilians. In exasperation, national security officials began asking as why Predator cannot be armed? Initial testing of missile-equipped drones was completed in 2001, and soon after the September 11 attacks the first weaponized Predators, armed with Hellfire missiles and designated MQ-1L, were flying over Kabul and Kandahar. In all, it flew 261 sorties in Afghanistan, totaling more than 2,700 hours. US is using them for hitting militants and terrorist leaders. Example of MQ-1 Predator UAVs armed with Hellfire missiles in Afghanistan and in tribal areas of Pakistan and in Yemen by the US, are now well known. Similarly Israel is using UAVs armed with missiles in Palestine. There was no looking back after this and many countries have armed UAVs. Some examples:
General Atomics MQ-9 Reaper. The MQ-9 Reaper flew its first operational mission in Iraq in July 2008.MQ-9 Reaper has an operational ceiling of 50,000ft, a maximum internal payload of 800lb and external payload exceeding 3,000lb. It can carry up to four Hellfire II antiarmour missiles and two laser-guided bombs (GBU-12 or EGBU-12) and 500 lb GBU-38 JDAM (joint direct attack munition). In May 2008, a USAF Reaper successfully test dropped four Raytheon GBU-49 Enhanced Paveway II 500lb bombs, which have laser and GPS guidance. Its sensor payload can include the General Atomics Lynx SAR (synthetic aperture radar).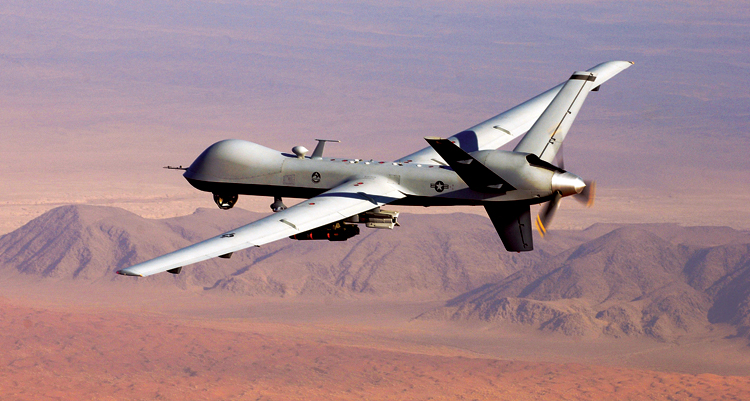 General Atomics MQ-9 Reaper armed with GBU-12 Paveway II laser guided munitions and AGM-114 Hellfire missiles
Northrop Grumman's X-47B. X-47B is a tailless, strike fighter-sized unmanned aircraft developed by Northrop Grumman as part of the US Navy's Unmanned Combat Air System (UCAS) Carrier Demonstration programme. The successful flight test programme is setting the stage for the development of a more permanent, carrier-based fleet of unmanned aircraft. It is designed to cruise at 0.45 Mach and can attain speeds of over about 280km/h. It can easily take off from the ground and land all by itself; in addition to refueling over the ocean. It can also be fitted with smart bombs and other weaponry that can self-deploy using the onboard computer systems.
IAI's Heron TP (Eitan). Media has reported that India has bought IAI's armed Heron TP also called Eitan from Israel. Israel Aerospace Industries (IAI) has partnered with Kalyani Strategic Systems to set up the plant. The Heron TP is a medium sized drone, measuring 14 m in length and has a wingspan of 26 m. The single Pratt and Whitney PT-6A 1,200 bhp engine is capable of powering it to a top speed of 241 kmph.The manufacturers claim that it can fly at over 45,000 feet above ground level payload weight is 2,700 kg.
The Wing Loong II. The Wing Loong II is an improved version of the Wing Loong 1 UAV in the category of MALE (Medium-Altitude Long-Endurance) designed and manufactured in China by the Aviation Industry Corporation of China (AVIC). It has length of 11m, a wingspan of 20.5m, can fly for 20 hours and has a maximum speed of 370 km/h and an operational radius of action of 1,500 km and is equipped with a satellite communications system. Wing Loong II has a maximum payload capacity of 400 kg. It is able of carrying up to 12 laser-guided bombs or missiles.
BAE-The Taranis. Taranis is an UK's unmanned combat aircraft system advanced technology demonstrator programme which was first flown in 2013. It is named after the Celtic god of thunder and is capable of carrying multiple ground to air missiles, bombs and other weaponry while in flight. It has some of the most sophisticated onboard computers that can deploy air-to-ground missiles both at moving and static targets. It is also designed with very complex stealth technology that allows it to carry out very covert operations and maintain a low radar profile. About the size of a BAE Systems Hawk aircraft – Taranis has been designed and built by BAE Systems, Rolls-Royce, the Systems division of GE Aviation (formerly Smiths Aerospace) and QinetiQ working alongside UK MOD military staff and scientists.
NESCOM Burraq UCAV. Pakistan's National Engineerings and Scientific Commission (NESCOM) has developed and produced Burraq unmanned combat aerial vehicle(UCAV). Its weight (empty) is 500 kg, maximum take off weight is 1,000 kg, maximum speed is 215 kmph and range is 1,000 km. It can carry 1 x "Barq" air-to-surface missile (laser-guided).
CH-4. The CH-4 is built by state-owned aircraft manufacturer China Aerospace Science and Technology Corporation. At Airshow China in Zhuhai in 2014, a company brochure said the CH-4 series is suitable for high-altitude missions over land and sea, and has a maximum take-off weight of 1,260kg and payload capacity of 115 kg. Endurance for the CH-4 series is claimed to be up to 30 hours. By another account, the UAV can carry a payload including Lan Jian 7 (Blue Arrow 7) laser-guided air-to-surface missiles, TG100 laser/INS/GPS-guided bombs, and AR-1/HJ-10 anti-tank missile – the Chinese equivalent to the American-made Hellfire missile.