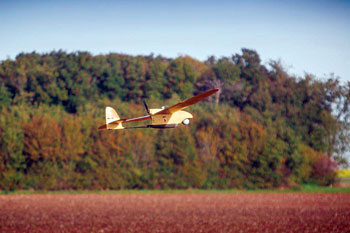 Thales's latest-generation Spy'Ranger mini-surveillance and reconnaissance unmanned aerial vehicle (UAV) has been chosen by the French Defence Procurement Agency (DGA) to equip the French forces. Up to 70 mini-UAV reconnaissance systems (SMDR) will be made available from 2018.
The armed forces require real-time access to ever more reliable imagery. Spy'Ranger will provide them with a decisive tactical advantage by offering the capacity to observe day or night, for long periods of time and at a distance of up to 30 km.
Each system consists of three mini-UAVs, a ground segment and the associated technical support. Starting in 2018, Thales will provide French forces up to 210 minireconnaissance UAVs.
The Spy'Ranger is the new 'eye in the sky' for the combined arms tactical group, able to be operated in a stand-alone mode or connected to a C4I system.
The Spy'Ranger is specifically tailored to the needs of the armed forces, as well as to those of essential operators.
The Spy'Ranger, developed by Thales in collaboration with several French SMEs, is a mini-UAV designed and manufactured in France.