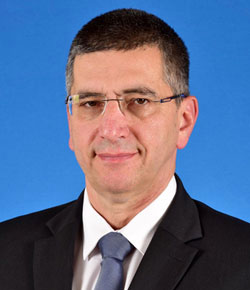 Moshe Elazr
Aeronautics Group, a leading provider of integrated turnkey solutions based on unmanned systems platforms, payloads and communications for defense, HLS and civil applications – announces the appointment of Mr. Moshe Elazar as its new CEO.
Maj. Gen. (ret.) Yoav Har-Even, Chairman of Aeronautics expressed his full confidence in Elazar's rich experience. Har-Evenstated that "after fulfilling diverse senior positions in the IDF, at the Ministry of Defense and at Rafael, Mr. Elazar will continue to lead Aeronautics in its development and expansion of operations around the world".
Expressing his appreciation to the achievements of Mr. Amos Mathan, Elazar's predecessor as Aeronautics CEO. "I acknowledge and highly value the work of our outgoing CEO, Mr. Mathan, who has brought the company to where it is today – a leader in its field, with a spread of its advanced systems in fifty-six countries around the world", he said. Har-Even also mentioned Aeronautics' recent win of a large IDF tender in cooperation with Rafael.
Prior to this appointment Elazar held several executive positions at Rafael Advanced Defense Systems, the latter being Executive Vice President & General Manager Land & Naval Division. Prior to Rafael, Elazar held numerous senior positions in both Israel Ministry of Defense (IMOD) and Israel Defense Forces (IDF) Navy. Elazar is a retired Captain from the Israel Navy.
Elazar holds a M.A. degree in National Security, an M.B.A and an M.sc degree in Electrical Engineering.