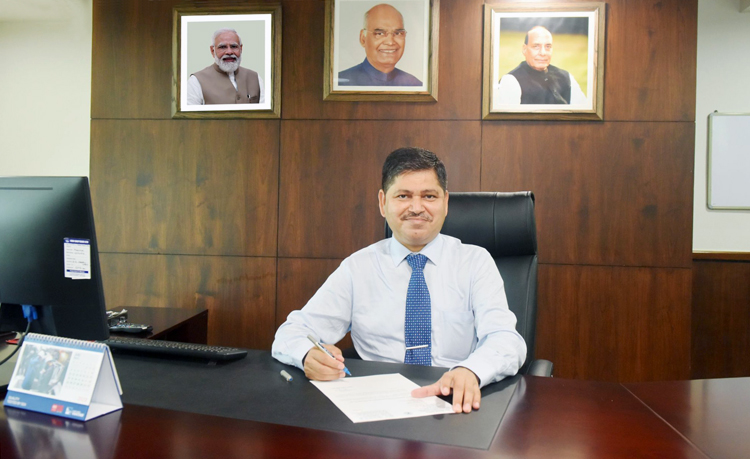 Brajesh Kumar Upadhyay, Chairman & Managing Director of Goa Shipyard Limited
Brajesh Kumar Upadhyay takes over as Chairman & Managing Director of Goa Shipyard Limited on July 10, 2022.
PROFILE
Brajesh Kumar Upadhyay assumed charge of the post of Chairman & Managing Director of Goa Shipyard Limited (GSL) on July 10, 2022. He holds a B.E. degree in Electrical Engineering and is a Fellow member of Institute of Engineers, Kolkata and Institute of Electronic & Telecommunication Engineers, New Delhi.
Prior to assuming the charge of CMD, he was the Director (Operations) of GSL responsible for successful execution of new shipbuilding projects. During his illustrious career of 30 plus years in GSL, he held various key appointments in the functional and operational areas of the organisation and has made significant contributions in nearly all verticals of the organisation viz. ship construction, ship repairs, corporate planning, business development & strategy, diversification, indigenisation, infrastructure development and capacity building etc.
Brajesh Kumar Upadhyay has been at the forefront in increasing GSL's global outreach and making inroads into untapped global defence market. He played a major role in bringing new technologies to GSL through Transfer of Technologies and collaborations with reputed and established international firms. He has been pivotal in setting up of the General Engineering Services stream in the shipyard, marking the beginning of the hugely successful diversification era in GSL. Under his leadership, GSL successfully ventured into innovative products such as multiple variants of Simulators, GRP Boats, Shipboard equipments like Fin Stabilisers, Landing Grids etc. These state of the art diversified products not only contribute sizeable share in GSL's revenue, but also strengthens Govt. initiatives of Indigenisation and Self-reliance in Defence.