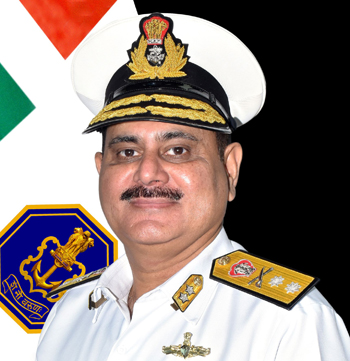 Rear Admiral Vineet McCarty
The 'Sword Arm' of Indian Navy, the Western Fleet, underwent a change of guard on November 15, 2022. A ceremonial naval parade was held at Naval Dockyard, Mumbai, and the baton of the Flag Officer Commanding Western Fleet was handed over by Rear Admiral Sameer Saxena to the new Fleet Commander, Rear Admiral Vineet McCarty.
Rear Admiral McCarty was commissioned into the Indian Navy on July 1, 1989. He is an alumnus of the prestigious Defence Services Staff College, Wellington, and National Defence College, New Delhi.
A Gunnery specialist, his afloat appointments include being part of the commissioning crew of guided missile destroyer, INS Delhi, followed by specialist tenures on the ship. He has served as Executive Officer of a seaward defence patrol vessel, a guided missile vessel and the Landing Platform Dock, INS Jalashwa. His command tenures include the anti-submarine patrol vessel, INS Ajay, the guided missile corvette, INS Khanjar and the guided missile frigate, INS Shivalik.
The Flag officer has also tenanted training appointments as Training Commander at erstwhile Indian Naval Academy, Goa, and Directing Staff at Naval and Maritime Academy, Sri Lanka. His staff appointments include being Command Plans Officer at Headquarters Eastern Naval Command and Commodore (Naval Plans) at Naval Headquarters. He was also appointed as India's Defence Adviser at the Republic of Singapore with concurrent accreditation to the Philippines. On promotion to Flag rank, he took over duties as Assistant Chief of Naval Staff (Staff Requirements), at Naval Headquarters, on February 10, 2020.
Rear Admiral Vineet McCarty returns the salute and reviews the guard of honour during the change of command divisions

Rear Admiral Sameer Saxena being accorded the traditional farewell upon handing over on the jetty by the men of the Western Fleet and in a whaler boat by fleet ships' Commanding Officers