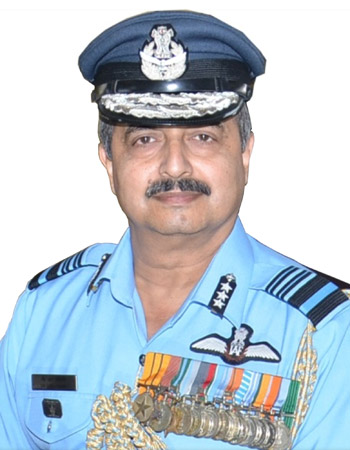 Air Marshal VR Chaudhari AVSM VM took over as Senior Air Staff Officer of Head Quarters Eastern Air Command on October 3, 2019. Prior to taking over his new assignment, he was the Deputy Chief of Air Staff at Air HQ (Vayu Bhawan), New Delhi. He is an alumnus of the National Defence Academy and was commissioned into Fighter Stream of the IAF on December 29, 1982.
The Air Officer has flown various aircraft and is experienced on MiG-21, MiG-23MF, MiG-29 and SU-30MKI and has flown over 3800 hrs. He is a Cat A Qualified Flying Instructor, Graduate of the Defence Services Staff College and an Instrument Rating Instructor and Examiner. The Air Marshal has a rich experience of operational flying, having undertaken numerous Air Defence missions during Op-Meghdoot and Op-Safed Sagar.
The Air Officer has been an Air Force Examiner on several types of fighter and trainer aircraft. He commanded a MiG-29 Squadron and served as the Chief Operations Officer of 1 Wing, AF. He commanded a forward base before taking over as Air I at Head Quarters Central Air Command. He has done tenures as an Instructor at DSSC, Wellington as well as DSCSC at Zambia. He served as the AA to the CAS and later commanded 2 Wing, Air Force. He has held key appointments of Deputy Commandant Air Force Academy, ACAS Ops (AD) and ACAS (PO).
In recognition for his meritorious services of an exceptionally high order, the Air Marshal was awarded the Vayu Sena Medal in Jan 2004 and Ati Vishist Seva Medal in Jan 15. The Air Officer is married to Mrs. Neeta Chaudhari, a home maker. They are blessed with two sons.