Elevation an acknowledgement of key role in big national security initiatives during PM Modi's first term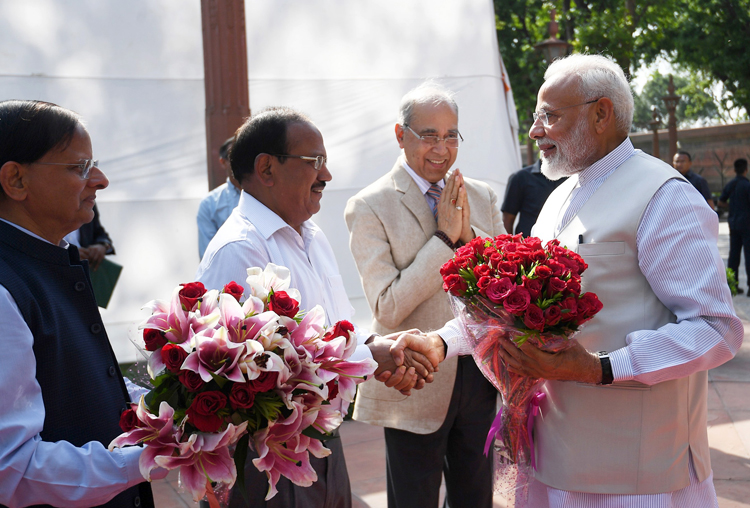 KEY CONFIDANTE: Ajit Doval's stock with Prime Minister Narendra Modi remains high
The Modi Government has re-appointed Ajit Doval as National Security Adviser (NSA) for five years in the rank of Cabinet Minister.
In his previous term as NSA, Doval, a 1968 batch Indian Police Service officer of the Kerala cadre and celebrated intelligence operative, held the rank of Minister of State.
The Cabinet rank is "in recognition of his contribution in the national security domain", sources indicated. He is the first NSA to hold Cabinet rank.
An Intelligence Czar and strategist, Doval is believed to have played a key role in both the cross-LoC surgical strikes of 2016 and the Balakot airstrike in Pakistan in response to highly provocative terrorist attacks in Jammu and Kashmir.
The NSA is part of the Prime Minister's Office, and a key pointsman on security issues across multiple ministries. This post was created in 1998 during the government of Prime Minister Atal Bihari Vajpayee. The first NSA was Brajesh Mishra, who held the post concurrently with that of Principal Secretary to the Prime Minister. Mishra was a powerful influence on Vajpayee.
A key confidante of Prime Minister Modi, Doval is the most influential NSA after Brajesh Mishra. He was director of the Intelligence Bureau in the Vajpayee Government, and was retained in that position by the Manmohan Singh Government for one year.
Observers feel the Cabinet rank for Doval will ease protocol issues in the Cabinet Committee on Security, where all members are Cabinet Ministers. It will also give him parity with the new Foreign Minister S Jaishankar, who as Foreign Secretary virtually reported to Doval during the latter's first term.
Doval will lead the effort to prepare a National Security Doctrine and undertake a Long-Term Strategic Defence Review. He will also be tasked with giving momentum to the Strategic Policy Group (SPG) as its chairman. The SPG is an advisory body to assist the National Security Council headed by the Prime Minister. Notified as far back as 1999, it was activated only in the later part of the Prime Minister Modi's first term.
Highly regarded during his career as an Intelligence operative, Doval was awarded the Kirti Chakra for gallantry in 1988 for undercover Intelligence operations in Punjab, North-East and Pakistan.