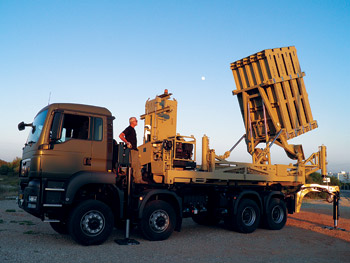 Israeli company Rafael with cutting-edge technologies in air defence systems has tied up with Reliance to manufacture air defence systems, which the company is showcasing at Aero India 2017.
The Deputy General Manager, Colonel Joseph Horowitz (Retd) told SP's M.A.I. that delegations from the Indian Navy and the Indian Air Force had visited the pavilion and expressed interest in the air defence systems — Iron Dome and C-Dome. He said the Iron Dome since its launch in 2011 had destroyed over 1,700 enemy rockets. "We cannot find any missile in the world with such a strike rate of 90 per cent." He said that a week ago, Israel had destroyed a Hamas fired rocket with great effect. He said the Iron Dome launcher was put on a Israeli ship recently and using the ship's radar, it was possible for 'target detection' and 'weapon allocation' in quick time. The company was now working on integrating the air defence system on ships. The Israeli Navy had worked on this system called the Closed-in Weapons System. The system can detect sea-skimming threats, rockets and other enemy munitions.
The systems, he said, would be required in India as the country had huge assets to protect not only on land but also on sea. He was hopeful that these systems would soon be accepted by India.