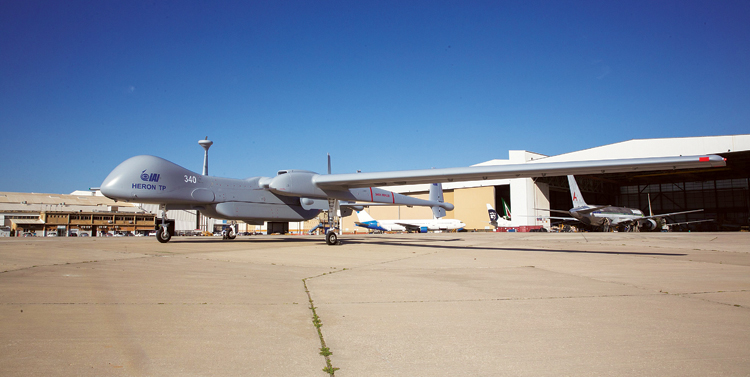 India and Israel are poised to scale up their partnership in unmanned aerial vehicles (UAVs), with the Israeli defence and aerospace giant IAI set to outsource its requirements for composite materials for drone airframes to India.
The Kanpur-based Lohia Group is acquiring an Israeli company, Light and Strong, which supplies high-end composites to IAI and Elbit.
Light and Strong mentions "giving alternate solutions in the field of construction and engineering in the domain of UAV in particular" as its specialisation, and lists the Israeli Ministry of Defence, UAV integrators and defence companies as its customers.
The Lohia Group confirmed the "signing of a definitive agreement with Israel's Light & Strong Limited, a national leader in aerospace and military composite components production". "The acquisition will be completed in the immediate short term", Pavitra Goel, Lohia's Lead for Aerospace & Defence, declared.
After the acquisition, a parallel composites manufacturing facility will be set up on a part of the 100-acre Lohia industrial complex in Kanpur. Construction of this "world-class facility" is likely to begin early 2019.
"The focus will be on exports, and Israel will be our launch customer," said Goel. In the Lohia acquisition, Industry watchers also see Israeli companies positioning themselves for discharge of offset obligations in India. Recently, the Adani group launched a JV with Israel's Elbit in Hyderabad for the manufacture of airframes for the Hermes drone for the international market.
Israel has a head start in India's drone market, with the Indian armed forces already operating the Searcher and Heron UAVs. It has also been widely reported that the acquisition of Heron TP armed drones by India is in the pipeline. Industry analysts expect this market to grow in a competitive environment.
"Our vision to become the leading supplier of choice (of composite subassemblies) for global OEMs in the aerospace and defence sector will be ably supported by our teams in India and Israel. Both our facilities will strategically serve our customers globally, with symbiotic support of technology and value manufacturing," Goel said.
The market for composite structures and sub-assemblies in India, too, is significant. Hindustan Aeronautics Limited (HAL), Bharat Dynamics Limited (BDL) and Indian Space Research Organisation (ISRO) are the biggest customers, but the demand has not been clearly projected to Industry. For instance, the Light Combat Aircraft Tejas is known to have the highest proportion of composites among all the world's fighter aircraft.
The Lohia group is an engineering company with an annual revenue of $300 million. In the past, it has supplied precisionmachined components to the Ordnance Factory Board for the Arjun Main Battle Tank, shell casings for 155mm Bofors ammunition, and fins for Pinaka rockets. With the acquisition of the Israeli Light and Strong, the Lohia Group is returning to the Defence & Aerospace sector after five years.