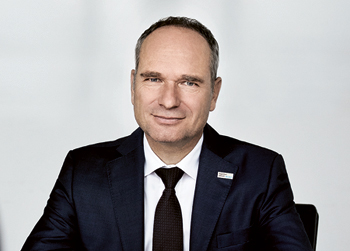 Urs Breitmeier
RUAG International's Board of Directors and CEO Urs Breitmeier have separated by mutual agreement. Urs Breitmeier held senior positions at RUAG for 18 years, the last seven of which as CEO. Chairman of RUAG International's Board of Directors Dr Remo Lütolf says: "On behalf of the Board of Directors, I would like to thank Urs Breitmeier sincerely for his commitment over the past years. Under his leadership, RUAG has developed into an international group. Urs Breitmeier was instrumental in shaping the unbundling and bringing it to a successful conclusion. RUAG International is thus well positioned for the future. We wish Urs Breitmeier all the best in his professional and private life and every success in the future."
The newly created company RUAG International will be a technology group focusing on space and aerostructures. With the dawn of a new era, the decision was made that the baton should be passed to a new CEO. Remo Lütolf: "We want to approach the upcoming transformation with renewed vigour." The search for a suitable successor has already started externally. Until a successor is in place, the current CFO Urs Kiener will lead the Group. Urs Kiener has been CFO for many years and is very familiar with RUAG's business. Remo Lütolf explains: "Urs Kiener not only brings 20 years of expertise as CFO, but he has also spent two and a half years operationally managing the Aerostructures Division. Urs Kiener has proven that he actively initiates change processes and sees them through professionally. The entire Board of Directors expresses its full confidence in him to lead the RUAG International through this ambitious transition phase."
The change at the top of the Group has no impact on the unbundling and the new strategic orientation of RUAG International. At its meeting on March 15, 2019, the Federal Council approved the procedure for unbundling RUAG's military activities. At the same time, it decided that RUAG International should be developed into an aerospace technology group and fully privatised in the medium term. Since January 1, 2020, two new organisations have been formed - MRO Switzerland and RUAG International under the umbrella of the new holding company BGRB Holding AG.