The US war in Afghanistan is the longest in which some 2,312 US military personnel have died since their invasion in 2001
| | |
| --- | --- |
| | The Author is Former Director General of Information Systems and A Special Forces Veteran, Indian Army |
THE SUN SETS BEHIND U.S. ARMY IN AFGHANISTAN
The US-Taliban peace deal engineered by Donald Trump Administration's manipulator Zalmay Khalizad was a joke played on the Afghan Government. Before Trump demitted office, US troop presence in Afghanistan was reduced to 2,500 not counting elements of US Special Forces. The deal gave May 1, 2021 as deadline for exit of all US troops. President Joe Biden extended the withdrawal deadline to September 11 while saying America has achieved its objective that Afghan territory can no more be used for terrorism against America. But ISIS and Al Qaeda presence continues in Afghanistan and if Biden was firm in January that the US aims were achieved, why wait another eight months to pullout troops?
The US war in Afghanistan is the longest (20 years since US invasion in 2001) in which some 2,312 US military personnel have died since 2001. But this is because of flippant US policies of increasing/decreasing troop levels on whims and fancies of US Presidents and lack of American will to strike terrorist sanctuaries across the border inside Pakistan; the humorous part being Zalmay Khalizad telling Afghan media on May 7, 2020, "America's strong position is that there should not be terror sanctuaries on either side of the Afghan-Pakistan border." Taliban commanders also acknowledged to BBC that Pakistan is running training camps to support and arm Taliban.
Taliban launched its spring offensive after the deadline of US troop withdrawal by May 1 was breached
Compare the above to the 47,434 US troops killed in the 11 year Vietnam War (1964-1975) and an additional 10,786 killed in the theatre of war; total of 58,220 American soldiers killed. US could have easily continued to maintain about 5,000 troops in Afghanistan to retain its only foothold in South Asia. This is certainly not a case where US 7th Fleet was kicked out of Philippines in 1992 and America forced to shut its only base in Central Asia, in Kyrgyzstan in 2014.
Taliban launched its spring offensive after the deadline of US troop withdrawal by May 1 was breached and US began handing over bases to the Afghan National Security Forces (ANSF). On May 2, the US military handed over Camp Antonik in the Helmand Province to Afghan forces. Next day the Taliban attacked Lashkar Gah, capital of Helmand Province from multiple directions, attacking check points around the outskirts and taking over some of them. The ANSF fought back supported by air strikes and deployed Special Forces to the area but fighting was continuing even after 24 hours with hundreds of families displaced.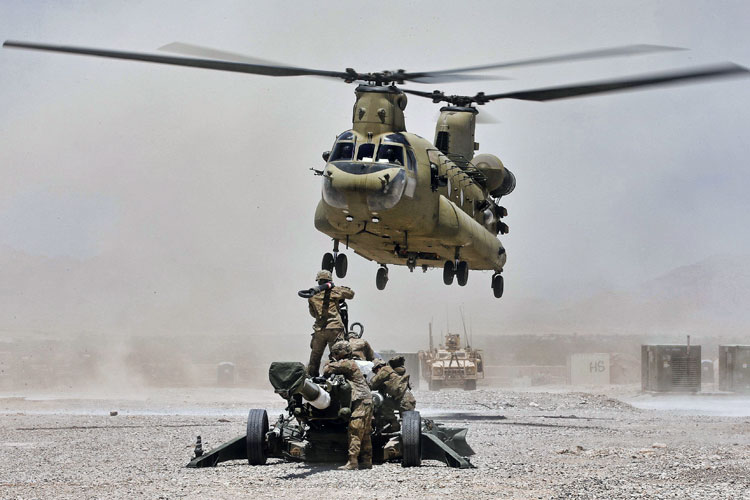 U.S. SOLDIERS HOOK-UP A M777A2 HOWITZER TO A CH-47 CHINOOK HELICOPTER TO BE AIRLIFTED FROM A FORWARD OPERATING BASE IN AFGHANISTAN
Afghanistan's Ministry of Defence claimed over 100 Taliban fighters killed in Helmand, which may be exaggerated since no details were provided about casualties among ANSF and civilians. The Taliban too did not release any details of casualties but Taliban spokesperson, Mohammad Naeem told media, "This in principle opens the way for our mujahedeen to take appropriate action against the invading forces", adding that the group was awaiting orders from its leaders for its future course of action. Significantly, local Afghan officials and even some aid workers on the ground, said that the Taliban offensive has been relentless.
Taliban offensive is obviously expanding but the US is holding out hope that the ANSF will be able to withstand the Taliban offensive
Provincial officials in Afghanistan's southern Kandahar Province reported on May 6 that Taliban fighters had captured the strategic Dahla Dam following fierce fighting forcing hundreds of families to flee. On social media, the Taliban also celebrated the capture of a key district in Baghlan Province in northern Afghanistan. Multiple blasts outside a girl's school in Kabul on May 8 killing 68 including 48 girl students and injuring 150 indicates the shape of things to come after Taliban gains control. The Taliban offensive is obviously expanding but the US is holding out hope that the ANSF will be able to withstand the Taliban offensive despite provincial officials warning of mounting losses with heavy casualties. Taliban overran the Police HQ in Nikhil District astride the main highway 25 km southwest of Kabul on May 13.
General Mark Milley, Chairman of the Joint Chiefs of Staff, told reporters at the Pentagon, "I'm a personal witness… that the Afghan security forces can fight. We've been supporting them, for sure, but they've been leading the fight. It's not a foregone conclusion, in my professional military estimate, that the Taliban automatically win and Kabul falls." Standing beside Milley, US Defense Secretary Lloyd Austin said, "We've seen an instance of that, in Lashkar Gah (in Helmand Province), the Afghan security forces conducting a counterattack and performing fairly well. We're hopeful that the Afghan security forces will play the major role in stopping the Taliban."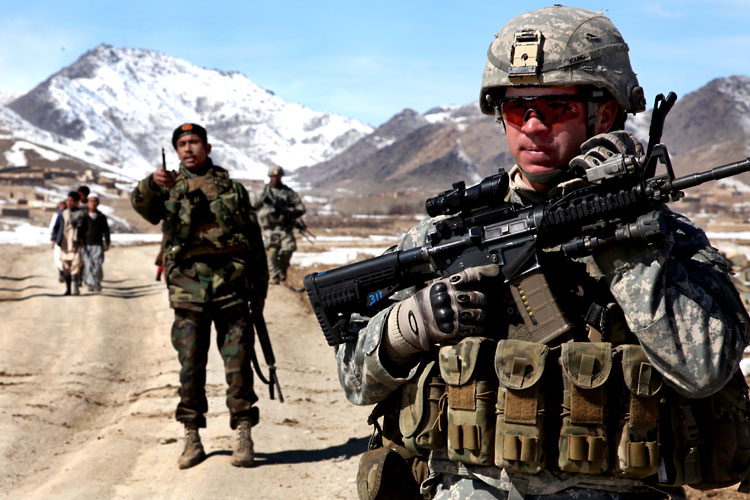 PARTNERSHIP BETWEEN U.S. AND AFGHAN SOLDIERS WAS VALUABLE IN BRINGING SECURITY
Milley has battle experience in Afghanistan but he has to submit to 'His Master's Voice'. Milley did not tell reporters and Austin may not have known that the ANSF counterattack in Lashkar Gah was supported by airstrikes by American aircraft, which will be missing after the US troops exit. The ANSF will also be short of artillery, unmanned platforms and logistics support.
Hillary Clinton, former US Secretary of State recently told media that there is risk of the Taliban retaking control of Afghanistan after the exit of US troops. She warned of "consequences both foreseen and unintended of staying and of leaving', terming it a "wicked problem". General David H. Petraeus, former Director of CIA and former head of International Security Assistance Force (ISAF) in Afghanistan has stated, "I do fear that two to three years from now we are going to look back and regret the decision to withdraw the remaining 3500 US troops (from Afghanistan)." He has warned of resurgence of Islamic State.
The ANSF will be short of artillery, unmanned platforms and logistics support and miss the airstrikes by American aircraft, after the US troops exit.
Interacting with media in December 2020, General Jack Keane, former Vice Chief of Staff of US Army, having served in Vietnam, Somalia, Haiti, Bosnia, Kosovo and commanded 101 Airborne Division and XVIII Airborne Corps said the following:
America will lose any leverage over Taliban and undercut the Afghan government with complete troop pullout.
Al Qaeda and ISIS are in Afghanistan and there's no political will in Taliban to interfere with the Al Qaeda or eliminate the existing ISIS sanctuary. Al Qaeda is waiting to re-establish once US exits.
US has kept forces post-conflict in Europe, Germany, Italy, South Korea, Japan (40,000 presently), even still in Bosnia-Herzegovina to help achieve a level of stability.
Iranian desire to dominate the region cannot be achieved till US presence in Afghanistan.
The best analysis by US Army is 4,500 troops needed in Afghanistan in terms of what the capabilities are – endorsed by General Austin S Miller, Commander of NATO's Resolute Support Mission in Afghanistan.
US media termed Keane's observations education in national security policy, not the fortune cookie claptrap too often served by America's political leaders. However, the Biden Administration appears focused on Taiwan, Western Pacific, Ukraine, Iran and the declining US dollar in global economy. The American sunset in Afghanistan is therefore certain.